The Cobra and the Cat (Solar Cooked Ratatouille)
by Don Larson
(San Jose, CA, U.S.A.)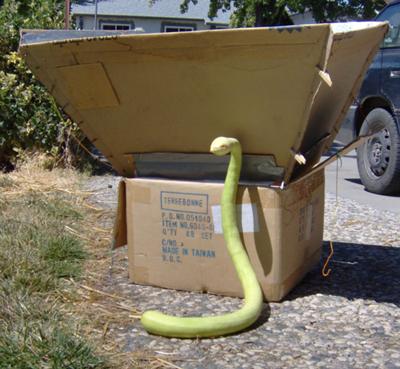 The Cobra entering the Heaven's Flame
One vote for Heaven's Flame, and one vote for Solar Burner!

We recently had a humorous solar cooking adventure with this recipe in our Heaven's Flame Solar oven:

Summer Harvest Medley (simple Ratatouille)
2 tablespoons olive oil
2 cloves garlic, crushed and minced
1 large onion, quartered and thinly sliced
1 small eggplant, cut into ¾ inch cubes
2 green bell peppers, cut into ¾ inch pieces
4 large tomatoes, coarsely chopped (into 1 inch pieces)
3 to 4 small zucchini sliced into half moons
1 teaspoon dried leaf basil
1/2 teaspoon dried leaf oregano
1/4 teaspoon dried leaf thyme
2 tablespoons chopped fresh parsley

In a 4-quart Dutch oven heat olive oil over medium heat (preferably use your solar parabolic burner or your stove top but a nice hot solar oven such as the Global Sun Oven can be used as well).
Add garlic and onions and cook, until softened, about 6 to 7 minutes. Add eggplant; stir until coated with oil. Add peppers; stir to combine. Cover and solar cook in a 325 degree solar oven for 45 minutes
Add tomatoes, zucchini, and herbs; mix well. Cover and solar cook in a 325 degree solar oven about 1 hour, or until eggplant is tender but not too soft. (A good rule of thumb is to stop cooking about 30 minutes after steam appears in oven)
Serves 4.

The "Cobra and the Cat" adventure we had is retold here through the eyes of story teller, Don Larson

One day, Ruth and Susan transplanted Tromboncino squash in our garden. One of the squashes we harvested this weekend looked so much like a cobra snake that I jokingly snapped a few pictures of it with the neighbor cat before making it into Ratatouille using our home made Heaven's flame solar oven.
We learn something every time we solar cook. It turns out that summer squash tastes much better to us if it caramelizes a bit (refer to the Maillard reaction in your cooking science text book or en.wikipedia.org/wiki/Maillard_reaction)

I have been cooking Tromboncino squash in the Global Sun Oven (at about 350 degrees F) or pan frying it on the stove top. My home made heaven's flame box oven cooked at about 240 degrees today.
Since I keep the Global Sun Oven at work, (it belongs to my employer) and I had no solar parabolic stove; we couldn't sustainably make tasty summer squash here at home... at least not then. We just ordered today a solar parabolic "solar burner" stove from yours truly, solarcooker-at-cantinawest.com, so soon we'll be frying up some delightful meals here at home and perhaps at next weekend's solar cooking social gathering in Felton, CA.

Susan and I teach solar cooking and have co-authored a cookbook called the "Happy Chicken Solar Cookbook" so we always are seeking lots of experience with many different ovens and appliances. If we win a global sun oven in this contest, you can be sure Susan will be tuning up all the recipes we use in the Global Sun Oven as well. For example we can list cooking times in our cookbook for "homemade Heaven's flame" oven vs. commercial Sun Oven.
Post Scriptus.
Now that the Solar Burner parabolic has arrived we can add some instructions to our Happy Chicken cookbook and to our class notes for using it as well. We are a very excited family right now.... our kids are going to enjoy watching me flash sticks into flame in less than a second at the focal point of this wonderful cooker!


__________________________________________
Thank you very much Don for this very detailed, comprehensive as well as humorous expose' on your families solar cooking experiences.

I am glad to find another "teacher" of solar cooking out there spreading the "good news".

Nathan
Admin.