Upside-down Sunshine Pumpkin Pie
by Christa Upton
(South Dakota)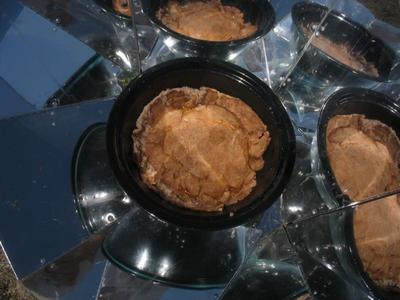 Sunshine Pumpkin Pie in the Hot Pot
Recipe 31 in the Solar Hot Pot

Upside-down Sunshine Pumpkin Pie

Now that the summer sun is at a good angle to brown baked goods, we are going to try a pie—upside-down! That way the crust should get nice and brown and crispy up on top. I hope.

Also we've had a can of pumpkin in the cupboard forever (driving me crazy).

Prep by mixing:

2 eggs
1/2 –3/4 cup sugar
1 can (15 oz.) pumpkin
1 teaspoon cinnamon
1/4 teaspoon ground ginger
1/4 teaspoon cloves
1 teaspoon sea salt
1 cup milk or cream

And make pie crust by gently mixing with fork:

1 c. flour (unbleached white or whole wheat pastry flour)
scant 1/3 c. olive oil (or more if dough is too dry)
scant 1/4 c. milk or cream
dash of salt

Roll/pat out into a circle on a piece of foil or parchment.

This actually made a little too much for the circumference of the Hot Pot. You can cut the recipe back, have a thicker crust, or nibble on the scraps. LOL

Actually, even the circle we used seemed too large. I might cut back next time.

12:15 pm—grease bottom half of Solar Hot Pot with butter, cover, set up facing the sun (to preheat), set timer for 15 minutes.

12:30 pm—pour batter into Hot Pot, cover with circle of crust, cover with Hot Pot lid, set timer for 1 hour.

1:30 am—adjust to sun, turn Hot Pot 180 degrees (Hot Pot only, not reflective panels), set timer for 1 hour.

2:30 pm—check for doneness by picking up Pot (with pot holders!) and swirling to see if the batter is "set," and by checking to see if crust is browning. If not set (and it jiggles), keep checking every 15 to 30 minutes until done. (Be aware of food safety—don't leave longer than two hours at temps cooler than 150 degrees Fahrenheit. Lower temps can occur especially with more clouds and/or in spring or fall.)

Serve with whipped cream.

I can't have the milk or cinnamon, but DH (dear hubby) says that this pie was delicious. (smile)

Before we did the pie, we cooked up some beets for lunch with a little water; I'll include the beets picture just for fun. Love doing veggies this way! Gently, no burning, no watching—just throw them in and go. These were crisp-done in about 80 minutes.

Also baked another loaf of Challah in our other Hot Pot today. We are used to making our own bread anyway; such a help with avoiding chemicals. Baking it with the sun is SO cool!