UT. Renewable Energy Fair 2014
by Joyce Lee
(UT)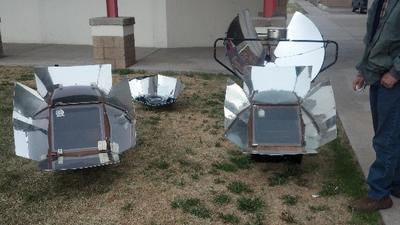 Milford Demo 2014
Last Wed. My Husband And I Traveled To Milford UT. To Participate In The UT. State Renewable Energy Fair.
I Had Heard That The Weather Would Be Challenging For That Day And So I Had Pre-baked Bread And Cookies Just To Show Some Examples Of What Could Be Cooked In Solar Cookers.
We Also Brought Our Silverfire Hunter Stove Which Is A Tlud Burning Type Of Rocket Stove So We Were Able To Do Soup And Bbq Hot dogs Also.
The Principle Of The School where The Event Was held Told Us That Last Year While We Were Doing The Event, The satellite That Does The Pictures For Google Earth Happened To Be Going over And If You Look Up Milford High School, You Will See Our Solar Cooking demo Going On!
You Will Also See Sunshine That Just Wasn't There This Week!



___________________________________________


Just when you have the need for a sunny event, the weather does not cooperate.
The day before can be sunny and the day afterward as well, but when you need the sun for an event...oh well. ;)

Nathan
Admin.
Join in and write your own page! It's easy to do. How? Simply click here to return to Share your Solar Cooking Experiences, Event or Photos!.
---