Wanted Dead or. . .Dead!
by Joyce Lee
(S UT)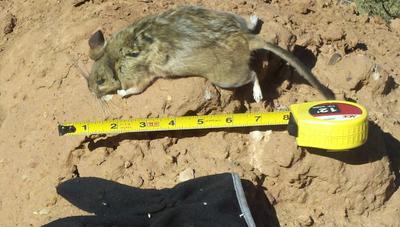 Desert Rat so common in our area
Warning: The Following Post And Pictures Are Pretty Graphic If You Are Squeamish About Such Things! Might Want To Skip This Post!

My Husband And I Have Been Living Off Grid In This Wonderful Spot In The Desert For Almost 4 Years Now And We Have Learned A Thing Or Seven!

Mostly, When You Set Up A Household In The Middle Of The Creatures That Were There First, Expect Frequent Visits From Your Native Neighbors.

However, These Neighbors Are Very Bad Mannered. They Mostly Only Come To Visit At Night, Steal Shiny And Interesting Things, Chew Up Whatever They Can Get their Teeth on Including Wires And The Trailer Skirting. Worst Of All, They Carry Disease And I'm Not A Fan Of Illness Or Dying!

This Spring And Summer So Far Has Been The Worst Outbreak Of Them Yet And We Have Thrown Every Resource At Them We Can Find. Including Leaving Buckets Of Water Around The Yard So They Fall In And Drown. In The Winter, They Drown And Freeze! Pretty Freaky But The Ravens And Hawks Have Learned Where Breakfast Is!

They Are Eating My Garden A Plant Or 2 A Night. They Even Ate My Bug Control Planted Marigolds And Lavender.

I Heard Them Building A nest Under The 5Th Wheel A Few Weeks Ago, About 4 In The Morning, And Went Running Outside And Ended Up Stoning A Couple Of Big Kangaroo Rats To Death.

So, I Need To Know If Any Of The Rest Of You Out There Living In The Western Deserts Have Run Into This Problem. What Have You Tried?

Successes And Epic Fails! Share With Me Please.

I Need To Know We Aren't Alone With These Creepy Critters!