Wheelbarrow Solar Dehydrator
by Sandra McHarg
(Clunes, Victoria, Australia)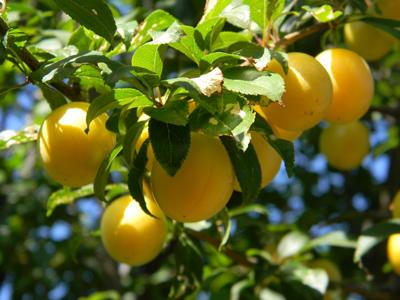 Yellow Plums
I had an expensive hardware purchase recently in the form of a new heavy duty wheelbarrow. My old Galvo gardener's quality wheelbarrow has been showing the strain of the heavy loads I've been using it for, and finally gave up under the weight of a full load of quartz rocks dug out of a potential veggie patch.
So with my new green Tradie's quality barrow not flinching under it's workload, what to do with my old wheel-less wheelbarrow?
Well, I'm having a lovely year so far with my fruit trees- first apricots, now the early peaches and plums galore, including some small freestone yellow plums. So I spent a morning halving the little plums and laying them out on a black enameled tray ready to dry. But although both a dehydrator and solar cooker are well and truly on my wish list I haven't had the time to make them (my preferred option; I like hands on options) and while we had pretty hot sunshine I suspected some augmentation might be best.
So out down our north facing driveway with the old wheelbarrow and a concrete block. Face the tray of the barrow so it's in full sun, prop up the front with the concrete block. Put the tray of plums in the back half of the tray, loop a light rope around a glass pane and place it over the back half of the tray, anchor it to the wheelbarrow handles, allowing the rope to sit under the pane to provide a small gap for ventilation. Finally get out an old net curtain and drape it over the front half of the barrow tray to keep out the flies while allowing good airflow.
This has worked beautifully. The galvanized surface of the tray reflects some sunlight, although not as much as a more "silvered" surface would. I realigned the tray early afternoon but because it's fairly shallow (15-20 cms.6-8") the fruit stayed in full sun for a longer time than it would in a deeper tray. I set up my makeshift dehydrator shortly before noon. By evening the plums were mostly dry so I put the tray in a cupboard overnight and set them out again the next morning. They were ready by early afternoon, little chewy intense bites of fruit. Temperatures both days were low to mid 30's (Celsius- about 90 Fahrenheit) and no cloud. If I could have the tray ready to put out first thing in the morning I think the drying would probably be done in a day.
Next move may be to slightly tweak my wheelbarrow to improve performance. Wood slats across it's width to allow the trays to be closer to horizontal,maybe heavy duty aluminum foil lining, a more secure way of fixing the glass pane, fly screen netting for the ventilation inlet and outlet, and a leg to replace that missing wheel.


_______________________________________


Greetings Sandra,

Thank you very much for this excellent submission, this is very ingenious and practical at the same time, I'm impressed.
A great way to use the sun for dehydrating.

Do you happen to have a photo of your "invention" that you might share with us and our visitors?
I am very curious to see it.

Nathan
Admin.