Windshield Screen + Sun = hot meals and a cool house!
by Charlotte
(Phoenix, AZ USA)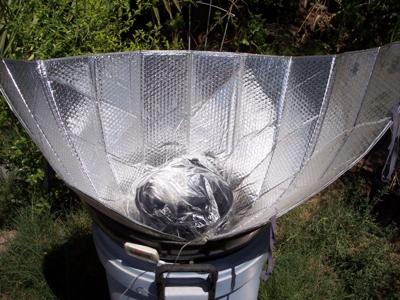 The solar cooker
Earlier this summer, with temperatures and humidity creeping up and living in a house with evaporative cooling, I started dreaming of an outdoor kitchen where meals could be cooked without heating up the house.
Living in the central desert of Arizona where we have what sometimes seems to be unrelenting sunshine, solar cookery seemed to be a natural thing to try. I found a website (solarcooking.org) that offers several plans for building solar cookers. As I wanted to keep my costs down and already had an aluminum-colored car windshield shade already on hand, my first attempt was the simple funnel solar cooker utilizing the shade and two binder clips to form a cone shape.

With a raw chicken in the refrigerator just waiting to be put to good use, the decision was made to attempt a family favorite chicken and rice recipe that, conventionally prepared, calls for cooking in a 325 degree oven for two and a half hours. Since the recipe was already designed for slow cooking, it seemed perfect to see if a windshield screen and binder clips could actually be used to cook a meal.

The ingredients were assembled in a black porcelain-over-steel pot and the pot sealed in a turkey sized oven baking bag which was then placed on the cooker at about 11am. At 2:30pm I removed the pot from the cooker and tested the temperature of the chicken, which was at a little over 180 degrees; dinner was done!

That simple chicken and rice dish, which I had made variations of countless times in the past, got rave reviews from my family. In fact, it's now referred to as "solar chicken" and is an often-requested dish.

I had doubted that something as simple as a windshield shade could actually be used to cook with, but my simple little solar cooker has proven quite wrong my earlier doubts of it's abilities. I have roasted garlic, baked cake and cooked to perfection several dishes, all without heating up the house while utilizing the free energy from the sun.



_________________________________________


Thank you Charlotte,

It really is amazing what a simple homemade solar panel cooker can do when it comes to solar cooking.
Although I have many commercial solar cookers, we still use some of our homemade panel cookers to supplement the cooking process, with great results.

I'm glad you discovered the "art" of solar cooking and wish you well in your endeavors and in this contest.

Nathan
Admin.