Winter Solstice Sourdough Sunshine Cake
by July Salt Allen
(Mesa Arizona)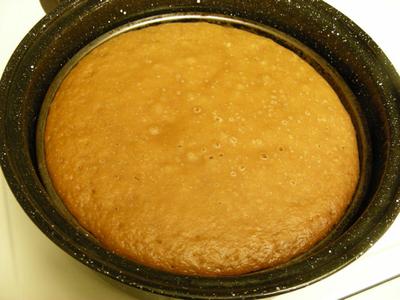 the basic cake, cooked inside the black granite wear pot in cake pan
Last winter around the solstice I made up this recipe ;it has become a family favorite.

Winter Solstice Sourdough Sunshine Cake
Basic Vanilla Cake (sourdough)
1 1/3 cups flour
1/2 cup sourdough starter
1/2 cup sour cream
1/4 cup oil
1 grated apple or 1/2 cup apple sauce
3/4 cup sugar
1 egg
1/2 teaspoon salt
3/4 teaspoon baking soda
1 1/2 teaspoons vanilla extract

mix dry ingredients: Whisk sugar, baking soda, salt and flour together .
mix wet ingredients: Cream oil, egg, grated Apple (or applesauce), sour cream, together. Next mix in starter, then the vanilla extract.
Add the dry ingredients to the wet ingredients by thirds.
Placed in an 8 inch baking pan, then in whatever solar pot system used in your
solar cooker. Bake until toothpick comes out clean. Today this was two and one
half hours before we checked; it may have been less time.

I made this "sunshine" cake today in the car shade funnel cooker. It is moist and delectable on its own; however frosted it this time.

Only because the tangerines are ripening right now I made tangerine frosting.
1 tangerine, with peel
1/3 cup cream cheese
1 Tablespoon butter
2 cups of Confectioners sugar
The recipe is simply one organic tangerine, I say organic because you're using the peel, just a tangerine, then put juice and peel zest in blender,
liquefy. Cream the 1/3 cup of cream cheese and 1 tablespoon butter together, then mix in
tangerine puree. To this add 2-3 cups of confectioners sugar depended on your desired consistency of the frosting.
----------------July



__________________________________________


Wow, that is really great at this time of the year, and with a funnel/panel style cooker.
Thank you for sharing this.

It sounds like a really easy cake and your presentation is really nice, it looks very professional.

We hope this will inspire others to keep their solar cookers available for any wintertime solar cooking opportunities they might have.

Thanks again,
Nathan
Admin.