The "Hot Pot" Solar Cooker
Cooking with the power of the sun

The HOT POT™ is the new alternative for eco-conscious campers, outdoorspeople, and their families - an integrated solar cooking system which is:


High-performing In sunny and clear conditions, the HOT POT™ will boil a quart of water in under an hour and cook a four-pound chicken in about two hours.


Versatile: From soups and stews, grains and pulses to whole meat roasts and even breads and cakes - the HOT POT™ is suitable for any dish which does not require frying. Awaken your creativity! Read about a South Dakota Solar Chef who cooks all kinds of foods with her Hot Pots


Great for healthy and delicious cooking with the power of the sun Keep the nutrients and vitamins in your food, while giving your dishes an authentic slow-cooked flavor everyone will love. No more burned or greasy food!
Portable: Take it with you everywhere you go - the HOT POT™ and its foldable aluminum reflector are easily stowed in a backpack.

Durable: The HOT POT™ is a quality manufactured product. From the tempered glass bowl to the steel cooking pot and aluminum reflectors, all parts are rugged and designed for outdoor use to give you many years of solar cooking experiences. 

Easy to use:
 Set up and get cooking in under 30 seconds! Clean all parts using only a moist non-abrasive cloth and mild soap. (Instruction manual included.)
$185 

CURRENTLY OUT OF STOCK!

Hot Pot Solar Cooker 

Fully Adjustable

Quality Parts

Anodized Aluminum Panels

Portable and Easy 

Temperature Up To 275 F

FREE SHIPPING
Safe: No fire, no smoke, no burns. The HOT POT™ is a safe alternative to any conventional cooking system and suitable for "no open fires" areas.

Time saving: With the HOT POT™, there's no need to haul fuel, chop wood or light a fire. Enjoy the outdoors without having to supervise your food - it'll be waiting for you when you get back (just make sure it's out of reach of wildlife!).

Great value: Tests have shown the HOT POT™ to be the most high-performing solar cooker in its price class. 

The HOT POT™ is comprised of a 3-quart, black-enameled steel pot supported by its rim inside a covered, transparent, tempered glass bowl and polished aluminum reflector panels.


Read about my own experience and opinions on the Hot Pot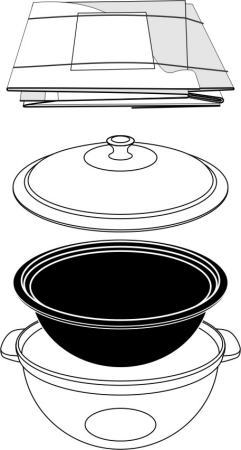 How it Works...
The sun's rays are concentrated by the aluminum reflector and projected through the glass bowl onto the steel pot, which converts solar energy into heat. As there is a half-inch of air space between the steel pot and the glass bowl, heat is retained inside the glass bowl, creating a miniature "greenhouse" effect which maintains cooking temperatures.
The Hot Pot can boil water and and any other liquids, it can be a little bit slower than some box cookers (ovens) but it will boil water, especially on a nice sunny day.
( I have cooked dry beans in the Hot Pot at a hard boil for a much as five hours on a good long summer day)

Basic information, tips and suggestions for the Hot Pot Panel Cooker
When you purchase a HOT POT™, you are also supporting an international non-profit initiative which helps eliminate human health and environmental problems associated with indoor smoke and deforestation in developing countries. From Mexico to Mali, Africa, HOT POT™ solar cookers are helping people in poor communities in their efforts to live a better life.
*The Hot Pot Solar Cooker is so versatile and practical that we recommend it to almost everyone that inquires about which solar ovens would best serve their needs.
But if you would like to compare the finer points of all of the best solar ovens available see our Solar Ovens Comparison page

With your order you will receive:
One (1) Aluminum Panel Reflectors, (no cardboard panels available)

One (1)Steel Pot-3 quart
One (1)Tempered Glass Enclosure with lid
$185 

Currently Out of Stock!

Hot Pot Solar Cooker 

Fully Adjustable

Quality Parts

Anodized Aluminum Panels

Portable and Easy 

Temperature Up To 275 F

FREE SHIPPING
We are one of many resellers of Solar Ovens and cookers on the market, so we promise to do our best to give you a quality purchasing experience as well as our 100% fully backed, product guarantee included with all solar cookers that we offer on our site.
You can try the cookers for 180 days (6 months)and if you are not fully satisfied we will refund the full price of your cooker.Conditional Restrictions apply
* Return Restrictions are as follows:
+No refunds or returns will be given in the case of abuse,neglect and deliberate destruction of said solar cooker in question.
++If a solar cooker arrives damaged upon receipt at time of shipping, then we will refund the cost of the product or send you a replacement oven. Seller will cover the cost of shipping also.
+++Buyer pays return shipping costs only on the regular 180 day trial return.
Do you own this same solar cooker?
How have you used this solar cooker in a unique or different way?

How have you improved this solar cooker and its capabilities?

Share with us and out site visitors...
What Other Visitors Have Shared
Click below to see contributions from other visitors to this page...

Cook for the family :)

Don't know if it's unique, but I made a wonderful chuck roast, carrots, potatoes, onions and garlic in this vessel. So juicy, moist and tender. Loved …
Rotating my Solar Cooker

Under the whole cooker (reflector + pot), I set a square 4 wheel wooden frame. This allows me to turn the cooker as the sun turns... without risking to …
Hot Pot- Solar cooking in San Francisco Not rated yet
The Hot Pot is working very well for my class of 3rd graders. Being in SF, & an early start school 7:50-1:50, cooking hours are limited. On a good day, …
Return from Hot Pot back to home page