Himin Solar Oven
Evacuated Tube design

(This Solar Oven Has Been Discontinued)
The Himin Solar Oven uses the Evacuated Tube design for a high quality and very effective solar cooking apparatus.
The evacuated tube style solar cookers are somewhat new on the market and in the solar cooking world, though they have been used for solar cooking by tinkerers and inventors for a few short years they have not been largely available to the commercial market until now.
The older style box (ovens) cookers,  panel cookers and parabolic cookers have been around for much longer, some as long as fifty years, but now there is a new and very effective method of solar cooking in the form of the compact and very fast evacuated tube solar cookers.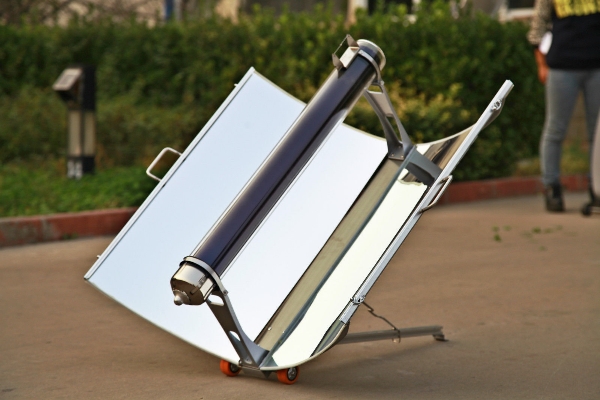 The Himin Solar oven is not only a nice looking solar cooker, but it is of  the highest quality materials and workmanship
It's easy to load and unload these solar cookers using a sliding tray/basket to place your food inside.
With the Himin Solar Oven Evacuated Tube style cooker you can cook almost any kind of food you desire, including:
Chicken
Roasts (beef or pork)
Breads-rolls and cakes
Soups
Vegetables
Pastas
Rices and more

The Himin Solar Oven Evacuated Tube is:
Highly transportable
Compact
mid-weight
Easy to set up
Easy to load
Cooks at high and fast temperatures
Retains heat well due to evacuated glass tubes
This particular brand of cooker is also larger than many similar tube solar cookers on the market and will allow for larger amounts of food to be cooked than can be done so in similar evacuated tube designs.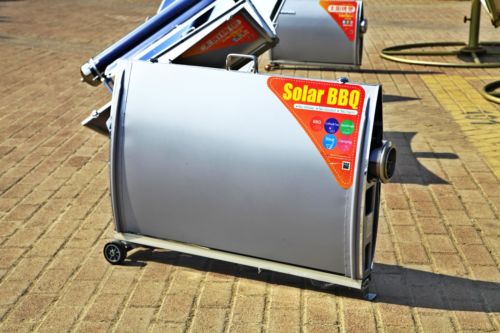 Pros and cons of the Evacuated Tube Solar Cookers:
Pros:
Hotter temps overall due to the vacuum glass tube's ability to insulate. (this is the reason these same tubes are used for solar water heating applications.
This type of cooker could be called the "microwave" of the solar cooker world due to its faster overall cooking times..

More compact, takes up less space than some of the traditional solar cookers.
Has a protective casing in the form of the fold-up reflector panels that protect the glass tube as well as the reflective surface of the panels.
Can attain and hold effective cooking temperatures a little better than many solar cookers on less than ideal sunny days, such as high thin cloud conditions etc.
These particular models from Himin have a larger cooking interior and can hold more food than other similar styles evacuated tube solar cookers.
High quality, durable materials. (the glass is similar to pyrex in strength and durability)
Cons:
Not quite as much volume (space) for food as some box style solar cookers
Glass is durable, but it is not completely break proof, one has to take care to not abuse the cooker. 
A little more costly than some solar cookers, but not unreasonable
These do alright in breezes, but if the wind gets too strong precaution should be taken to stabilize the cooker to avoid tipping the cooker.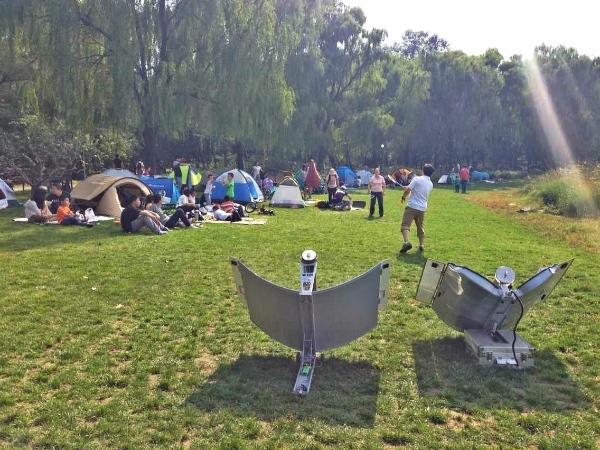 Smaller Cooker:
Nano Model 7347 Man. Version $399.99 USD (includes shipping within Continental US)
102 mm x 730 mm Tube Dimensions
Larger Cooker:

Micro Model 8555 Man. Version $499.99 USD (includes shipping within Continental US)
120 mm x 850 mm Tube Dimensions

Power:

Example: model 7347 (HGC-0.67/4kZ3); 7347 means the dimension of the reflector when folded is 73cm length and 47cm height.
830 x 310 x 560mm is the outline dimension.
0.67m2 is the collecting area (technically, we call it aperture area) of the reflectors. 0.73m x 0.47m x 2=0.686m2 which is approximately equal to 0.67m2
The power generated depends on the solar irradiation. You can make a rough estimation. For example, at summer noon in southeast US, the solar irradiation is about 1000w/m2.
Then the power of the 7347 solar cookers is about 1000w/m2 x 0.67m2*efficiency (which is about 60%) = 402w. This is only a rough estimation/calculation, not the measured value.
Cooking Temperatures:
200 C-300 C (392 F-572 F)

The size and weight of the solar cookers:
7347 model: package dimension 85cm*20cm*59cm, weight 11.5kg. (25 lbs)

8555 model: package dimension,91cm*22cm*69cm, weight 13kg. (29 lbs)

Materials:
Inside the vacuum tube, there is a protection barrel inserted, which is made of stainless steel. And you put the cooking trays and grills inside the protection barrel. Food is cooked in the cooking tray and on the grill.
The material of the cooking tray and the grill is stainless steel, food-grade stainless steel.
The material of the reflector panel is aluminum reflector, hard-anodized.
The material of the backboard for the aluminum reflector is hot dip galvanized sheet.
The material of the support structures is also hot-dip galvanized sheet.
Each cooker includes the following accessories:
Hook for hot food tray retrieval

tongs

trays for placement of food (separate meat and veggie trays)

gloves
water boiling vessel (container)

Cleaning Brush

Users manual

The Himin Solar Oven Evacuated Tube style cooker is a nice addition to your emergency preparedness supplies and can give you that added sense of security through the ability to cook with the power of the sun while preserving those cooking fuels that are more limited in nature.

A solar cooker is a sustainable way of cooking your daily meals without putting a burden on our limited resources.
* * After having tried this cooker myself, I have to say, it is a very fast solar cooker. Very efficient, and the quality of the cooker is very good.
Nathan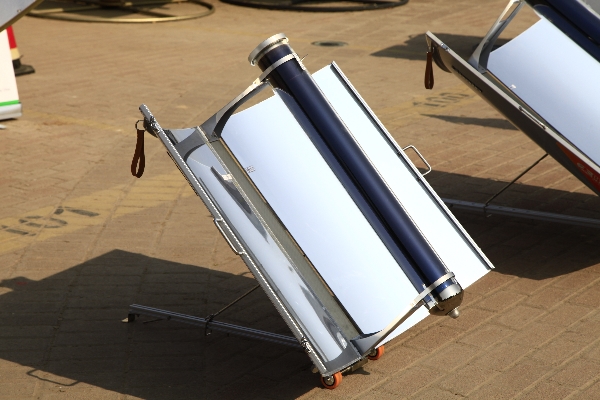 Himin Solar Oven Evacuated Tube Model 7347
Himin Solar Cooker Model 7347 (closed, protected position)
We are one of many sellers of Solar Ovens and cookers on the market, so we promise to do our best to provide world class customer service as well as offer our 100% fully backed product guarantee included with all solar cookers offered on our site.
You can try the cookers for 30 days and if you are not satisfied we will credit your purchase price back toward the purchase of another cooker. Some restrictions apply. See full product guarantee for more information.
* Return Restrictions are as follows but not limited to:
+No refunds or returns will be given in the case of abuse,neglect and deliberate destruction of said solar cooker, accessories or packaging in question.
++If a solar cooker arrives damaged upon receipt; within 7 days of shipping, then Cantinawest will send replacement parts/new oven at no cost to you. 
+++Buyer pays return shipping cost on non manufacture warranty product returns.
Return from Himin Solar Oven Evacuated Tube cooker back to Solar Cooker main page

---