Solar Oven Odor?

"Solar Oven odor", "plasicky smell", "off-gassing", "toxic smell"
are a few of the adjetctives that have been used to describe the peculiar smell that a manufacatured solar cooker is capable of producing.
We wanted to address this particular issue because it's a concern that comes up from time to time as part of the inquiry and information gathering process of first timers, or investigating customers and visitors to our site.
Many people have read reviews online from people who had a particularly unpleasant experience with solar oven odor, and because these reviews remain "forever in cyberspace" they are seen by many people, which can have a tendency to cause people to think that this is a common problem, or even a problem with a particular brand.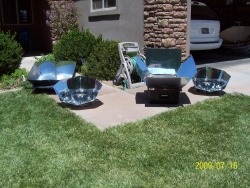 So, to answer those many customers and visitors that ask if it's true that solar ovens have that "plasticy odor".
Yes, most all of the manufactured cookers; the Global Sun Oven, the SOS Sport, the SunCook, the Tulsi Hybrid, the Sylvan Solar Oven and a handful of others have an initial "new manufacture smell"
because they are produced in machine shops/manufacture facilities and they use man made materials that can produce odors. It's just a fact of life that the materials used in these solar cookers can have a slight odor, just like a brand new car, a brand new suitcase, a brand new dvd player etc. will have odors. And as time progresses they all lose this smell.
...But, there is no plastic inside of the solar oven interiors.
None of these solar cookers uses plastic in the production of the interior oven space, these are all metal interiors, most of them being either aluminum,
** hard anodized aluminum
or steel.
Almost all of the solar cooker manufacturers though will use plastic for the exteriors of their solar cookers because plastic is lightweight, durable, weather resistant and easy and cheap to produce, but none of this plastic is on the inside of the cooking chamber and if there is some on the inside (in the case of the Sport Oven lid/cover) this does not come in contact with the food and it serves only as a barrier to keep the heat from escaping out of the oven.
Since there is no plastic being used on the interiors of these solar cookers, what is it then that causes a cooker to initially have the odor mentioned above?
Most of the time the odor is associated with the materials or lubricants that were used in the machining process. These can be easily washed away with soaps/detergents. But, with a couple of cookers, like the SOS Sport and the Tulsi, it is the colorant (dye/stain) that give their interiors a dark color.
Of course the Global Sun Oven is the cooker most often mentioned with regards to this smell,
the reasons being that this cooker has been in existence longer than any of the other brands, almost 30 years now, and there are thousands upon thousands of GSO's still being used all these years later and even more being sold now than at any other time in its history. And, if you go onto some big websites that have comment/review boards, such as Amazon, you will find reviews/opinions from a few people that highlight the fact that their experience with the Global Sun Oven was "ruined" due to this "plasticy smell", which they just could not get rid of. The same would go for a handful of
SOS Sport Oven owners and SunCook Owners and Tulsi Hybrid Owners and Sylvan Solar Ovens etc. etc.
, because it surely was the case for these particular owners of these cookers.
Was this strong odor a fact and reality for these cooker owners? Yes, it was and I myself can vouch for them and have experienced it myself with some of my own solar cookers and a few of those of our many customers/owners.
...This initial new manufacture smell in all of these cookers can usually be overcome or remedied with some easy actions and with a little bit of time. It is not an issue that is insurmountable, and it is not harmful or hazardous to ones health as some will claim. Disconcerting it is, but not dangerous.
*Note:
When using a solar cooker it is rare that food will ever come in direct contact with the materials of the cooker interior, and if they were to do so, the materials used in most of the cookers is of food grade quality and standard. (Hard anodized aluminum is used in the production of these solar cookers and of many restaurant equipment items.) More often than not, the food in a solar cooker will be inside of an appropriate cooking utensil, thus avoiding contact with any possible contamination.
The first steps to be taken with any new manufactured solar cooker
is to place the cooker out in the sun and then place one of the accompanying dark pots/pans inside of the cooker, filling the pot about half full of water, adding three to five tablespoons of
vinegar
and then allowing the cooker to steam for about three to six hours, after which you would take a rag and tongs (water is very hot) and then vigorously wipe out the interior of the oven.
For most of the solar cookers this will usually be sufficient to remove the faint new manufacture smell. For those that are a little more persistent you might repeat these steps over a few days.
I also suggest cooking in your solar cooker right away to help eliminate and solar oven odor, if any, but not to start out with items such as breads or pastries since these can absorb more easily any odors. For especially challenging smells, the ideal remedy is to cook in covered pots and pans for some time and to cook foods with strong odors such as bacon, onions, cinnamon, meats and other strong smelling spices and to afterward wipe out your cooker with water and dish detergent that has been heated inside of your solar cooker for a few hours to allow for more steaming of the interior.
Over our years of selling solar cookers there have been only a very small handful of cookers that were returned due to inability to remove the strong persistent solar oven odor, and usually we have been able to take those same cookers and use them ourselves, cooking strong odored foods with covered pots, and wiping often the interiors. And within a short time we have a solar cooker that has no problem at all. It was only a matter of being patient and a little more persistent on our part.
Those that did persist, from what we could determine, was a smell more than likely caused by the rubber gasket used to create the seal between the glass lid and the frame of the cooker. There are no paints or glues used inside of the Sun Oven Interior.
There are many hundreds of thousands of owners of Global Sun Ovens, SOS Sport Ovens, Tulsi Hybrid Ovens and SunCook Solar Oven Owners all over the United States,
even around the world, who have been using their solar cookers to create great tasting, healthy and energy free solar cooked meals for years and they have had little if no issues with solar oven odor, and you can too.
Note:
The Global Sun Oven and the new All American Sun Oven interiors do not have, and are not manufactured with paint, glue or other adhesive substances, therefore they cannot off-gass as would be the case if they were manufactured with such. Their interiors are solely made of hard anodized aluminum, no paint. At one time the Sun Oven used powder coating method to blacken the interior of the oven, but even then it was the rare exception that it would have a persistent and foul smell.
Exchanging an oven with a problem:
Here at Solar Cooker at Cantinawest and On our site we have a policy of taking care of such issues for our customers, and if the best solution is to exchange the solar oven, then we will do so, we don't have a problem with doing such. We allow six months from the time of purchase to the time of refund to use and try your solar cookers. We have had a couple of customers over the years who have received another cooker in exchange and this was all that they needed to resolve their problem. We had a couple of others that received a refund for their cookers and we took back the cooker in question and have used them ourselves without any issue with persistent smells.
We hope this is helpful information.
_______________________________________________________________________
Product information:
** Anodizing
Anodizing involves the electrolytic oxidation of a surface to produce a tightly adherent oxide scale which is thicker than the naturally occurring film. Anodizing is an electrochemical process during which aluminum is the anode. The electric current passing through an electrolyte converts the metal surface to a durable aluminum oxide.
The difference between plating and anodizing is that the oxide coating is integral with the metal substrate as opposed to being a metallic coating deposition. The oxidized surface is hard and abrasion resistant, and it provides some degree of corrosion resistance. Any aluminum product can be color anodized
Hard Anodize (Hardcoat):
Hardcoat anodize, while usually done in a sulfuric acid based electrolyte, is much thicker and denser than the more conventional sulfuric anodize. Hardcoat is specified for aluminum components subject to extreme wear applications where superior abrasion resistance is needed, or corrosive environments where a thicker, harder, more durable coating is necessary.
It can also be valuable where enhanced electrical insulation is required. Since hardcoat anodize can be built up to several thousandths in some cases, it makes this type of anodize a candidate for salvaging worn or mis-machined components.
Hard Anodize Features:
Improved wear resistance
Non-conductive
Can repair worn surfaces on aluminum
Improve parts surface for slide applications
Can be black dyed; other colors less decorative
Finish is harder than tool steel
Did your solar oven have a smell when you first got it? How did you eliminate it?
Tell us how you were able to overcome or eliminate it, whatever the brand of solar cooker it might have been.
What Other Visitors Have Said
Click below to see contributions from other visitors to this page...

3 years and Sun Oven still smells

I came across your article here. I am a purchaser of global sun oven. I bought through Amazon approximately 3 years ago. One point you make that is not …
ms (mittigating smell in a solar oven?) Not rated yet
I cleaned my sun oven with half a cup of baking soda and a glass bowl of warm water after letting the bowl of baking soda water heat up inside for about …
Return from Solar Oven Odor back to Frequently Asked Questions
---