The Solavore Sport Oven

With TR-86 Reflective Aluminum Panels
Evolving from the SOS Sport Oven the new Solavore Sport Oven is one of the top box style solar cookers in its class boasting:

One Of The Largest Capacities

Super Lightweight

Effective And Easy To Use

Harness the power of the sun to cook with the all new Solavore Sport Oven. 
The Sport Solar Oven is one of the more unique solar cookers on the market today, and is built for durability, practicality and long use.
The Sport is also one of the more versatile solar cookers available.
It has room inside for two, quite large, cooking pots (included) and also permits smaller size cookie and cake sheets for baked goods.
It is designed to take maximum advantage of the sun's energy year round, with a more vertical angle for cooking in the winter time when the sun is much lower on the southern horizon.
The outer casing is manufactured using a very durable, lightweight, insulating plastic that will give years of cooking enjoyment.
Total weight with the reflector panels is a comfortable 9 pounds, making the oven very easy to transport.
The transparent cover, made of food grade acrylic/plastic is designed for maximum efficacy of cooking temperatures through the creation of an air pocket that helps in the insulation of the oven.
Included with the Sport are two (2) black enameled roasting pans large enough for a whole chicken and vegetables to fit easily inside of only one pot. It also includes a cooking thermometer, a water pasteurization indicator and an owner's manual.
Available for purchase with the Sport are the optional detachable reflector panels for more effective and efficient cooking results. (I highly recommend the reflector panels)
$287 

Solavore Sport Solar Oven With TR-86 Reflector Panels

OUT OF STOCK

2 Graniteware Pots 3qt.

CookBook/Quick Start Manual

WAPI

New TR-86 High Performance Reflector

Oven Thermometer

NOW INCLUDES Solavore Stow-or-Go Carrying Case ($45 Value)
---
Cleverly named after a Carnivore who eats only solar cooked food, thus the Solavore!
The Solavore™ Sport was purpose-built by solar-cooking experts for maximum efficiency, durability, and ease of use.
Weighing 9 pounds

Measuring 12 ¼" high by 27 ¼" long by 17" wide

Temperatures range from 210º – 260º F (Max 300º F).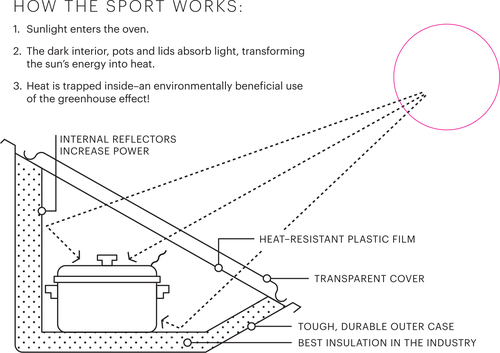 I will admit my bias may show through in my glowing report of my experiences in cooking with this particular oven.
I have found this great oven to be as versatile, functional and practical as my Hot Pot, Global Sun Oven, SunCook and Solar Burner Parabolic.
The key differences being found in the particular uses that can be performed by each one.
The Hot Pot, I use for a variety of dishes and meals, including even some baked goods at times. Its strong feature though is its ability to solar cook substantial amounts of foods that are high in moisture content such as stews, chilies, soups, meats etc.
On the other hand the Sport Solar Oven can cook many of the same moist foods as well, but has a definite advantage when it comes to baked goods over a panel style cooker such as the Hot Pot and SunFlair.
I have had great results baking cookies, breads, and cakes for the solar cooking classes that I offer through our community education program, as well as at home.

This solar oven has room for small cookie sheets or two good-sized medium roaster pans and up to five of the small black enamel cooking bowls that I acquired for this purpose. It is also deeper than many other commercially built solar cookers on the market, allowing for larger food items.

This oven reaches excellent cooking temperatures within very short times and maintains them quite well due to the insulating structure of the oven casing design and its air pocket insulated transparent lid.

It has roasted a whole chicken to the point that the outer skin was a golden brown and the meat literally fell off of the bones, it was that tender.

I also very much like the fact that it is quite compact and lightweight for its size and can be easily and conveniently placed any where there is sunshine for cooking.

With my Sport and my many other solar cookers I have the capacity to cook up a complete meal for the entire family to enjoy.

Even my children have learned to use these solar cookers with out the fear of starting the house on fire or ruining the food they are cooking.
 *The Solavore Sport Solar Oven is so versatile and practical that I recommend it to almost everyone that inquires about which solar ovens would best serve their needs.
But if you would like to compare the finer points of all of the best solar ovens available see our Solar Ovens Comparison page
You can learn how to most effectively use and enjoy your own SOS Sport Solar Oven by following our adventures and forays into the fascinating world of solar cooking by going to our Solar B (log) and following and using our recipes and steps for preparing wholesome and delicious meals as we use our own solar cookers.

*Baked Wheat Bread from The Sport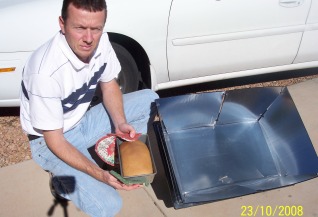 Our Solavore Sport Oven cooking in Southern Utah out on the red rocks of a nearby city park and also baking cookies outside of our home.

The Solavore™ Sport was purpose-built by solar-cooking experts for maximum efficiency, durability, and ease of use. Weighing 9 pounds and measuring 12 ¼" high by 27 ¼" long by 17" wide, the Sport is lightweight and portable. Oven temperatures typically range from 210º – 260º F, maxing out at 300º F. In other words, hot enough for slow-cooked goodness (food cooks starting at 180º F) but not hot enough to burn dinner. It simmers like a crock pot and bakes like an oven.
The Sport comes with a pair of 9-inch covered, black, granite-ware cooking pots and optional reflectors for concentrating sunlight under less-than-ideal solar conditions, such as when trees or clouds partially block the sun. As a rule of thumb, cooking time is twice as long as conventional methods, with an additional half hour for the solar oven to preheat.

Base
Designed to be lightweight and durable, the Sport's one-piece base is made from injection-molded resin under 1,000 tons of pressure. It has been reinforced with glass fibers to prevent heat degradation and crushing. A black, powder-coated aluminum liner soaks up sunlight, converting it to heat energy for cooking.

Insulation
Heat retention is critical for performance. With an R-value of 6.5, the Sport leads the solar-oven market in insulation. Its one-inch-thick layer of rigid foam, sandwiched between liner and base, is impervious to water, thanks to thousands of tiny, sealed, air holes—a key design feature since solar cooking generates steam and humidity. 

Lid
A clear, double-layer insulated lid helps the oven retain heat while letting in maximum sunlight. Made from a durable vacuum-formed polymer, it features a snug-fitting lip (held fast by metal clips) and a layer of solar film to create the one-inch insulating air layer.
---
Accessories:
We are one of many re-sellers of Solar Ovens and cookers on the market, so we promise to do our best to give you a quality purchasing experience as well as our 100% fully backed product guarantee included with all solar cookers that we offer on our site.
You can try the cookers for 180 days (6 months) and if you are not fully satisfied we will refund the full price of your cooker. Conditional Restrictions apply.
* Return Restrictions are as follows:
+No refunds or returns will be given in the case of abuse, neglect and deliberate destruction of said solar cooker in question.
++If a solar cooker arrives damaged upon receipt at time of shipping, then we will refund the cost of the product or send you a replacement oven. Seller (we) will cover the cost of shipping also.
+++Buyer pays return shipping costs only on the regular 180 day trial return.
Return from Solar Oven: The SOS Sport back to types and styles of cookers 
---