Building a Solar Cooker
Building a Solar Cooker is easily accomplished With the right resources... we would like to help you find the best ones for your ideal cooker.
There are many sites available on the internet that offer plans for building a solar cooker.
Some plans are quite simple and others are a bit more complex in design and more involved in their use.
Do not let the simplicity and the rustic looking nature of a homemade solar oven fool you though, just because they are made from ordinary, common, everyday materials does not mean that they can not cook. Most well built homemade solar cookers can cook about anything you can imagine.
Several books have been written on solar cooking that include plans and information for building a solar cooker from these common everyday items.
Due to the scope and complexity of accumulating and illustrating the large numbers of styles and varieties available, we offer a good source for solar oven plans.

One of the easiest and least expensive ways to build a simple solar cooker can be found here on this page, showing how to make an effective solar "panel" cooker for less than $5.00 

Another very informative site for home made solar oven plans is found on The Solar Cooking Archive at Solarcooking.org which also sponsors a Wiki about solar cooking.

Another very informative site for home made solar oven plans is found on The Solar Cooking Archive at Solarcooking.org which also sponsors a Wiki about solar cooking.
All of the plans on the above mentioned site are designed and built by individuals and organizations, some are proprietary and require permission to use, sell or distribute but the great majority can be constructed and used by anyone, this being the purpose behind the display and dissemination of home made solar ovens and solar cooker plans on this site.
All of the plans are very functional and can be used to attain great results for most any cooking need. These plans offer a great opportunity to also teach students, scouts and other groups the principles behind solar energyand its uses for practical application in the art of solar cooking.
Another Site with Solar Cooker Plans
Getting your Solar Cooker Panels right the first time...

Have you already built a homemade solar oven? How did it turn out? What things did you do well and what things did you do...well, not so well?
Share with us your own experiences of building a solar cooker from scratch!
** You can contribute your own story by clicking here to go to the submission form ...Already Built My Own Solar Cooker
Parabolic Solar Cooker:
Robinson Square Parabolic Solar Cooker

This is a great homemade solar parabolic cooker designed and made by James Robinson of Texas. This parabolic cooker rivals any of the top manufactured parabolics in efficiency and effectiveness. Click here For more detailed information on the Robinson Solar Parabolic Cooker
Another site for the handy person, especially those who like to build things with their hands and use blueprints and plans to create a solar cooker work of art.

This is an excellent and attractive design for a parabolic cooker. http://www.earthboundtech.com
| | |
| --- | --- |
| Here is great site: (SOLAR FIRE) about a loosely grouped organization of people who are helping to bring larger scale solar cookers to communities around the world, including in the USA. Here you can find information and see the results of many who are working to bring solar cooking to the masses. Solar Fire Project | |
This site shows how this group used a simple, yet effective solar parabolic design using a cardboard box and reflective material for making a parabolic cooker based on the Hallacy Design from Dan Hallacy's book, Cooking With the Sun
For those of you who really get into the mathematical realm of solar cooking you can download an excel spread sheet for calculating parabolic solar cooker focal points and energy out put; and there is a page in the same spreadsheet for Solar Oven Energy Output Calculations as well.
Solar Parabolic Focal Points Graph file
SolReka, based in Great Britain, has a very handy and precise template for building your own parabolic solar cooker.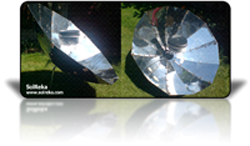 The template allows for unlimited construction of your own parabolic cookers. You provide your own readily available materials such as cardboard, foam board, coroplast, reflective material etc. 
Here is a pretty ingenious method for making your own solar parabolic trough cooker, not too difficult and the materials are easily found in any home improvement store. (Narrated by the designers little boy) 
Box Solar Oven:
For those who are pretty handy with tools and plans and really like to make something that will last, you can get great information on home made solar cookers on a favorite site of mine. You will find quite detailed instruction on how to build a solar oven with materials that are readily available at the local home improvement store. This gentleman has been involved in solar cooking for quite some time, so he speaks from experience. http://www.williamgbecker.com/MakeSolarOven.html
| | |
| --- | --- |
| And one more that was developed with many trials and effort; and has become a popular solar oven design used by enthusiasts everywhere The Heavens Flame  | |
And for those looking for a simple box cooker, especially for a solar oven project for kids to be used in a science fair, you can visit our web page to learn how to build a Pizza Box Solar Oven
| | |
| --- | --- |
| Here is a site that will help you build a very effective and very versatile solar box cooker, in fact it is one of the best cookers you can make for a very reasonable cost in materials. This is the All Season Solar Cooker, from Jim LaJoie of San Diego. | |
| | |
| --- | --- |
| | This design is by Solar Cookers International and is called "The Minimum", a very simple and inexpensive solar box cooker. |
Getting your Solar Cooker Panels right the first time...
Solar Panel Cooker:
The panel cooker is quite possibly the simplest to make, and the most economical of the three types of solar cookers, yet it can be just as effective at cooking as the other two previously mentioned cookers.
Because of the ease and simplicity involved in its construction, there are an abundance of solar cooker designs and solar cooker plans available for the panel cooker all over the internet.
My favorite, for its simplicity and cost, would be the solar funnel cooker made from a car windshield sun reflector. All that is needed to create this effective and very portable cooker is an automobile windshield reflector, an oven bag, a black roaster pan, a bucket and voila; you are cooking your first sun baked meal.(Despite the fact that I own several commercial solar cookers, I still use the above mentioned funnel cooker quite often)You can find out more about the funnel cooker, made by Kathy Dahl-Bredine, at this site Solar Panel Cooker 

The original design for the Funnel Solar Cooker came from Professor Steve Jones of Brigham Young University which you can see here along with some great insight on it's use and effectiveness after testing the cooker extensively with his students. BYU Solar Funnel Cooker

| | |
| --- | --- |
| Another of my favorite sites is the Sunny Cooker which has a number of well designed and well built solar panel cookers. Sunny Cooker | |
This is a tried and true solar cooking design: the Parvati Cooker, designed, built and described by a solar cook from India, Ravindra Pardeshi and his wife, (who, by the way, writes very good English)

I like the design and the simple materials needed to build this cooker. Parvati Cooker
Here is a video form one of our customers that shows how he built this cooker...
Here is a nice and very effective solar panel cooker that comes in a ready made kit form that you just have to assemble and start using right away. You can purchase the ready made kit for a very nominal
cost. Copehhagen Solar Cooker Light
| | |
| --- | --- |
| The very popular and well known COOKIT, from Solar Cookers International has been modified and improved by Teong H. Tan, the creator of several effective and unique solar cooker designs in the solar cooking community. Teong Tan Modified COOKIT solar panel cooker | |
The Haines Solar Cooker

Here is a variation on a couple of styles of solar cookers.
You have a mix of panel along with parabolic trough style cookers combined for a very effective solar cooking mechanism.
You can read more about the Haines Solar Cooker on the solar cooking wiki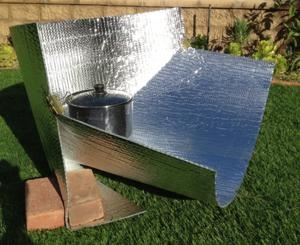 Fresnel Lens Cooker:
For those who would like to purchase a Fresnel Lens to make your own "concentrator cooker" you can contact dealer Paul Lennon for details, cost and shipping information on his product. Fresnel Lens order info.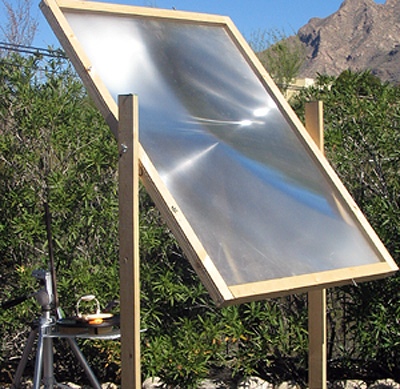 Homemade Fresnel Lens Solar Cooker-Bruce Joseph, Tucson AZ
Note: With any and all solar cooker plans and designs, links, pages and instruction shown here on our site and elsewhere,  time and effort should be given to patiently read and analyze the information presented; whereas some instruction tends to be more understandable and clear than others, due to the writing and organizational skills or lack thereof, of the authors.
For those who are also interested in a high quality manufactured solar cooker, please visit our Solar Ovens Comparison page to find out what is offered on the solar cooking market. 
| | | |
| --- | --- | --- |
| Panel Cookers in Mexico | Parabolic Cookers in Southeast Asia | Solar box cookers in Peruvian village |
Share with others your tips, suggestions and ideas on what you did to build a homemade solar oven.
If you have been successful, and even unsuccessful,in building a solar cooker, whether it's the first solar oven or the tenth oven, we would like to hear how you did it!

Tell us:


What kind of solar cooker did you build?


what materials did you use and why?


How well did it turn out and how well did it cook?
**Many of our visitors come looking for detailed, hands on instruction for building a solar oven and we would really appreciate sharing your experiences in order to help them.
What Other Visitors Have contributed
Click below to see contributions from other visitors to this page...

Tracking the Sun

This blog will describe a solar tracking mechanism which can be used for large paraboloids or conical horns. The chefs of India requested a solar oven …
Solar Funnel Cooker with glass top cooking pot

In continuation with my story of "Home-made solar funnel cooker" , I would like to add my further experience. The cooking pot which is kept at the bottom …
Home Made Solar Funnel Cooker

Solar Funnel cookers are efficient, improved Panel cookers ---with a line of focus instead of a point or circle of focus as in parabolic cookers.I have …
If At First You Don't Succeed....

For years, I've been frustrated at all the solar energy "going to waste" in my back yard. My first few attempts at harnessing some of that energy for …
Old satellite dish and solar panel cookers.

I found this old dish at the city recycle area and converted it to a cooker by first sanding it smooth and covering with 2" strips of reflective vinyl …
Solar Cook Your Home!!!

Instead of cooking, I use same idea to heat my home. I need to add a sun tracking device, but I can not find any to buy. I want the same tracking device …
Tri-Flector Panel - response to "Double Jar Solar Cooker"

Cool, I made this out of a cardboard box and foil and thought I had invented something really simple and cool but then saw the Double Jar Solar Cooker …
Modified Panel Solar Cooker

Hi Nathan Parry! I made a small panel cooker using cardboard with back panel size 15in x 12 in and side panels of the same size. I realized while using …
solar oven made from junk oven

I've finished my solar oven that I made from an old conventional oven. you can see video on youtube my channel is "centervilletn" just search solar oven, …
Dave's Permanent Solar Box Oven

Wanting a solar oven that was big enough to hold a cookie sheet, 2 bread pans or a medium size roasting pan that worked well and could remain outside regardless …
Peanut roasting with a [small] picture-frame solar cooker

Using two cardboard boxes, with Styrofoam insulation between the boxes...I covered the inner box with glass glazing--using a picture frame without the …
Fresnel Lens Solar grill

I purchased a 30" x 40" linear Fresnel lens, and built a frame for it out of 2" x 2" lumber. This frame is mounted on a wooden stand which allows me to …
Homemade Parabolic Solar Cooker made of printing plates

Hi My name is Paul, I have found a very easy way to build a Solar Parabolic Cooker. I got the old aluminum plates used in printing, so they really last. …
(Homemade Solar Oven using a )Recycled Electric Oven

I am currently building a solar cooker using the box out of an old oven...cut it at an angle using a sawsall and created a slant box oven box ready with …
I made a solar oven, it was easy and it works!

I got a box free from a local store, I purchased 2 windshield reflectors from Dollar Tree ($2.00)and I also purchased a more sturdy windshield reflector …
Kevin's Solar Oven

I built my solar oven from an old styrofoam cooler covered with a piece of glass scrounged from a picture frame, aluminum foil glued to the inside walls …
Tracking the Sun ( page 2 ) Not rated yet
The third requirement is: both the north-south "daily" center line of rotation and the east-west seasonal line of rotation must pass through the focal …
A Solar Stove, Low Cost and High Powered Not rated yet
The people of the third world that glean scraps of wood for their cooking fires can build this cheep solar stove. A parabolic trough can be scraped out …
Cooked? Not rated yet
I recently attempted to make a solar cooker. With a little help from the internet and hardware store, I gathered foil and boxes. It didn't take long …
[From Electrical Box; to a Great Solar Cooker] Not rated yet
My wife and I have been into solar cooking, seriously, for the past four years. In fact we do 80% of our spring, summer and fall cooking with solar energy. …
Double jar solar cooker Not rated yet
This was originally made from a wine box with a Mylar-type bladder. It cost less than 50 cents to build, and will cook 2o ounces of rice in under 2 hours …
Solar Box Oven with Reflectors 19/64/71 degree orientaions Not rated yet
This is a homemade solar box oven made from corrugated cardboard packing boxes from Home Depot (R). The solar oven sections were cut from the packing boxes …
Receive latest updates to this site without having to subscribe or give your info. You can always know what is new and happening in the world of solar cooking by receiving updates from our site as they happen...
You can do this through your computer using the RSS feed...
Add our feed by clicking on the orange RSS button found on the left side at the top of each page of this site, and you will always find plenty of useful information.
*Note: It is not necessary to submit your email or personal information in order to receive the RSS feed.
---
Return from Building a Solar Cooker back to Home page 

Go to: 
** Homemade Solar Ovens: Best Materials and Supplies 

Adhesive backed Silver Reflective Vinyl 

Solar Cooking Pots, Pans and accessories
Build a Simple Solar "Panel" Cooker for less than $5.00 

Pizza Box Solar Oven...build your own
Solar cooker varieties and styles 

Solar cookers: Pros and Cons of Each Style 

"Hot Pot" Solar Cooker Experiences 

Emergency Food Preparedness with a Solar Cooker