Solar Cooking Archive and Blog 2
Day by day and week by week solar cookers log

 


More Solar Cooking stories and news from Solar Cooks around the world (below)

Just scroll down and read the stories



                                                                                               Middle of April 2014
I have been cooking my lunches on various jobsites throughout the week in my Hot Pot Solar Panel cooker that I always have in my vehicle with me wherever I may be.
Some days are not very sunny, but if the clouds are only high-thin in nature I can still usually heat up my lunches since the food I bring with me is usually leftovers from the days before.
It is not too difficult to re-heat food in a good solar cooker even when the sun is not at its full potential.
This week we have been able to cook dry beans in the Sun Oven, Corn Bread, Banana Nut Bread as well as frozen fish sticks, seasoned tater tots and pork roast for taquitos.
We were going to fry the taquitos on the Solar Burner for Sunday dinner, and despite the day being very sunny, we had a very strong and incessant wind, with gusts up to 40 miles an hour. And so in the end we did not use the parabolic cookers because we would have been battling with constant shaking and moving of the cookers. ( I have successfully solar deep fried in such conditions, but it was not fun)
                                                                                               5-8 April 2014

Sunday, Monday and Tuesday were very productive Solar Cooking days at our household, especially with such an abundance of sunshine and warm, early spring temperatures...
Sunday we cooked both breakfast and dinner and while we waited for dinner, after church, we decided to do a family activity of planting our seed starts for our garden...tomatoes, cucumbers, peppers, melons and more.

| | |
| --- | --- |
| Scrambled Eggs before Church | Bacon for Breakfast before church |
| | |
| --- | --- |
| Solar Cooked Cherry Dump Cake for Dinner | Solar Chicken and Veggies for After Church |
| | |
| --- | --- |
| Crisping the Bacon | Planting Seed Starts |
Monday was re-heating leftovers for lunch while out on the job-site...

And Tuesday was all about beans; Solar Cooked Refried Beans Deluxe and a big pot of Baked Beans.
The baked beans are for eating throughout the week with other dishes and the refried beans were for a full meal with chips, salsa, sour cream and an additional veggie on the side.
| | |
| --- | --- |
| Hot Pot with Baked Beans | Our Refried Beans Deluxe in the Sun Oven |
---
Solina One

A very innovative and unique solar cooker design that I came across on youtube.
I like this cooker!


Here is their website as well: Solenium
---
Big Solar Cooking Demo for our church organization's Emergency Preparedness event on 29 March 2014.
We taught a lot of people all about solar cooking and the benefits of having a backup method for cooking their food when the power is out and your expendable fuels are limited...
In all we probably had about 70-80 participants come for the event that went from 10:00 AM -12:00 PM. in the church parking lot in St. George, Utah.
We cooked up a lot of goodies and samples for all to try and we cooked throughout the presentation so that people could see how easy it really is to use a solar cooker while going throughout their normal daily routines.
We cooked a variety of foods in order to show the versatility of the cookers.
We had:
Spaghetti cooked on the Solar Burner
Spaghetti Sauce in the Sun Oven
Dinner rolls in the Sun Ovens
Seasoned Tater Tots in the Sport Oven and Sun Ovens
Cooked carrots in the Hot Pot
Hard boiled Eggs in the Hot Pot (no water) and some in water on the Solar Burner
Lots of scrambled eggs on the SolSource Parabolic
A big pot of chili in the Sun Oven (started on the parabolic to get up to heat faster)
We would have cooked more if the day had been completely cloud free, but since we were not sure of the day when it started out (high thin clouds) we limited our menu.
Over all though it was actually a really nice day for solar cooking.
* * Lots of interest and lots of order for solar cookers
| | |
| --- | --- |
| Participants mingling, learning and eating at the demo | Two of my Solar Burners, one old and beat, one newer |
---
Last two weeks of solar cooking in March 2014
It has been some warm, and sunny weather in our part of the state/country, which of course means solar cooking every day we can...
Both Monday and Tuesday's dinners were full-fleged solar cooked meals with all of the "fixins and trimmins" each day and we ate right as soon as my wife and youngest son (15 yrs old) walked into the door since the food was cooked and waiting inside of the hot ovens.
I find solar cooking to be easier and less hassle most of the time because I can just prep the food and set it out to cook while I am taking care of other business.
Here's to the power of the sun!

| | | |
| --- | --- | --- |
| bbq chicken legs | solar baked potatoes | Parabolic Spinach |
| | | |
| --- | --- | --- |
| Browning the pork roast | Fish Stick Solar cooked lunch | Roast and Brown Rice out of the oven |
---
First two weeks of March 2014 Solar Cooking
We have had quite a productive two weeks of solar cooking this March in St. George, Utah so far with just a few days of cloudiness, but mostly sunny days and lots of solar cooking opportunities and a large variety of foods cooked.
We have baked cookies, white and wheat bread, bannana nut bread, chili, bacon, soup, stew, popcorn and much, much more.

| | | | |
| --- | --- | --- | --- |
| Partly Sunny Solar Cooking | Blueberry Quickbread | Blueberry Quickbread finished | Solar Cooked Bacon |
We cannot see a sunny day and let it go to waste, we have to have our solar cookers out and working for us whenever we can.
We solar cook all year round, even in the winter when it is freezing, but we especially like to use our solar cookers when it is hot outside in the summer because we can keep the heat out of the kitchen and the house by avoiding the need to turn on the stove or the oven and creating more heat in the house and causing the air conditioning units to work so hard...it does make a huge difference by cooking outside with the solar cookers.
| | | | |
| --- | --- | --- | --- |
| Solar cooked white bread (6 loaves) | Chocolate Cookies Sun Oven Style | Chocolate Cookies Sun Oven Style | Solar Kettle Corn |
| | | |
| --- | --- | --- |
| Banana Nut Bread in Sun Oven | SolSource Cooking Sausage | Beets, Broccoli, Beet Greens and Bacon Cooking |
---

We are going to Los Angeles, California to help kick off the Great March For Climate Action by helping the organization to set up, familiarize and to instruct and teach with hands on experience how to use the solar cookers that we donated and provided at a reduced cost for use by the march participants.
Climate March.org will be using the solar cookers as often as they can throughout their eight month long nationwide march which starts in Los Angeles on the 1st of March 2014 and ends in Washington, DC on 1 November 2014.
We are sure that the march participants will be able to use the solar cookers for a good portion of their cooking needs and will be able to really see the benefits of a fuel free source of cooking their food.
We will spend two days helping them to learn the ins and outs of solar cooking on the five All American Sun Ovens and the seven Solar Burner Parabolic cookers.
We are hoping to have more solar cookers availabe at the time of the march beginning, but we will see.
Invitation to share All Summer long:
We would also love it if we could get fellow solar cooks to come out along the march route, across the various states, and to set up their solar cookers and join in with the participants on the day they arrive in their cities and home towns. Solar Cook right along with them and share your food and expertise with march participants and spectators alike.
Here is a link to the organization's march route page and the cities and towns through which they will pass along the way
---
The Kolamba Solar Cooker from Heliso's Magnar Totland, developed and tested in Brazzaville, Republic of Congo.
More information at the Kolamba Blog Page

---
Powerful Solar Smelters
---
Solar Cookers in South Africa...from SunFire Solutions
Read Crosby Menzies Story
---
A new Solar Energy/Cooking publication from India (in English) published quarterly...
Sun Focus Publication starting in September 2013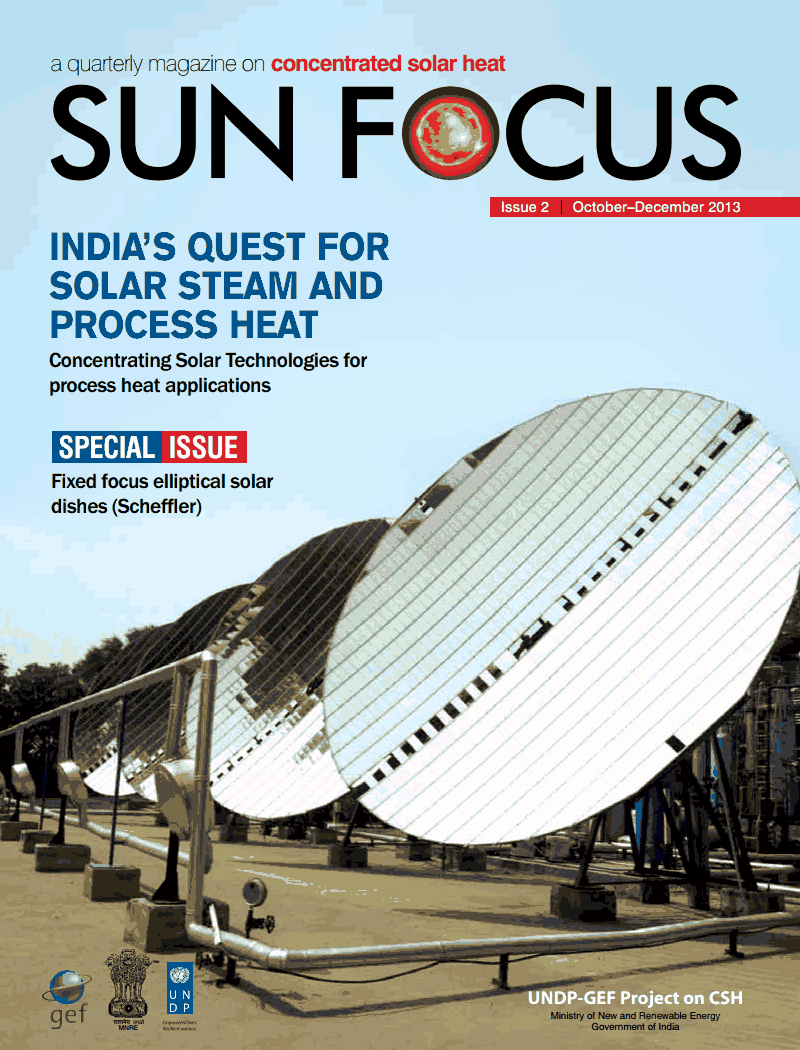 Article:

Why is Solar Cooking Not accepted as a Feasible Means of Cooking by many in the International Charitable Community?
Published in an article from Solar Cookers International's: Solar Cooker Review.
Can Solar Cookers Reduce Emissions and Improve Health?

In a 2012 video produced by the Global Alliance for
Clean Cookstoves, celebrity actress and Global Alliance
Ambassador Julia Roberts notes that every year, the simple
act of cooking is responsible for more than two million
deaths among the nearly three billion people who still cook
over open fires using wood or charcoal. (In 2013, the World
Health Organization [WHO] revised that figure upward to four
million.) The victims—primarily women and children—die
mostly from respiratory disease. Cooking in this way is
equivalent to smoking up to ten packs of cigarettes per day.
When heating food and boiling water, solar cookers
produce no emissions. Their regular use whenever the sun
is shining dramatically reduces the need for poor families to
cook with combustible fuels.
Despite the fact that solar cooking has been shown to
dramatically reduce this dangerous exposure, the Global
Alliance and others in the international development
community continue to deride this technology as
unworkable and ineffective for improving the health of the
world's poorest populations.
With a box or a panel solar cooker, families can leave nutritious and inexpensive dried beans and grains to simmer unattended for hours using no fuel at all.
A 2011 World Bank survey on the health and
environmental impact of household cookstoves does not
include a single solar cooker in its list of the stove
interventions that are analyzed in this fifty-page
document. WHO states on its website that the Global
Alliance for Clean Cookstoves "is promoting improved
biomass and biogas cookstove designs that can
substantially reduce indoor air pollution." WHO is
conducting health impact studies on these biomass
stoves in cooperation with the Global Alliance, but it is
conducting no studies on the health impacts of solar
cooker use.
A quick Internet search reveals that millions of dollars
have been spent over the past decade on health-related
biomass cookstove and cooking fuel research in the
developing world by the World Bank, the World Health
Organization, the Shell Foundation, the EPA and now
the Global Alliance for Clean Cookstoves. Only one
peer-reviewed study has ever been published
on the health impact of solar cookers, and it argues against
the further dissemination of this technology.

After a long and concerted effort, D.C.-based members of the
solar cooking sector convinced the EPA to
include three solar cookers in a series of tests on
improved cookstoves and fuels: the Global Sun Oven,
Solar Household Energy's HotPot, and the SunPower
parabolic solar cooker.
At the April 2013 Global Alliance Forum in Cambodia,
the lead EPA cookstove researcher presented his team's
preliminary test results and announced that the cleanest of
all the stoves they had tested were the three solar cookers.
This was great news for the members of the solar cooking
sector in the audience.
The bad news came when the  keynote speaker, UC Berkeley Professor Kirk Smith, who has been studying the effects of biomass cooking
smoke on the health of the world's poorest families for
the past two decades, and who is considered to be the
preeminent expert in the clean cookstove world, was
asked by an audience member why he had not included
solar cookers in his research. His response: "Let's not
ask the poor to use technologies we wouldn't use
ourselves…like solar cooking."

During Smith's presentation, he said that, "the full
benefits from reducing household air pollution can only be
achieved by switching to truly clean cooking, which means
LPG (Liquefied Petroleum Gas) and electricity." (This,
despite the fact that neither LPG nor fossil fuel-generated
electricity are clean, sustainable energy solutions.) Smith
also acknowledged that the world's poorest billion people,
who suffer the worst health effects from smoky cooking
fires, will likely never be able to afford to purchase LPG
and will still need efficient biomass stoves. In a 2011 CNN
report, Smith highlighted the urgent need to develop and
deploy truly clean-burning stoves for these people,
although he acknowledged that there were "few
examples of such stoves anywhere."
A WHO publication, Addressing the Impact of
Household Energy and Indoor Air Pollution, authored by
Professor Smith and five other (Continued in next column)
researchers, does not recommend solar cookers because
they "frequently require the user to cook under the
midday sun, or change cooking practices and habits."
The authors add that the use of solar cookers "is limited
for practical reasons." The reality is that many cooks in
the developing world, who live in single room
dwellings, also cook outside with their biomass stoves or
three stone fires to avoid filling their homes with smoke.
The only existing, peer reviewed paper on the health
impact of solar cookers, "The Effect of Solar Ovens on
Fuel Use, Emissions, and Health: Results from a
Randomized Controlled Trial," is a Ph.D. dissertation
based on a 2008 study in Senegal. It was supported in
part by Solar Household Energy (SHE). SHE's solar
panel HotPots were used in the study. Professor Smith
received special thanks from the authors for his help
with measurement tools.
UC Berkeley published this study, in which the
authors acknowledge that, "because 80% of
our respondents typically cook for more people than the
capacity of the solar oven, even cooks using the solar
oven always had a fire going at the same time." Officials
at SHE questioned this selection of respondents who
have large families, noting that it was comparable to
saying, "The Smart Car is a failure because we tested it
as a school bus and 30 children couldn't fit in it." SHE
also challenged the study's negative conclusion, which
declared that the project had been a policy success
(italics added), "because its results halted the proposed
nationwide rollout of the solar oven, thus avoiding mass
distribution of a stove which cannot reduce Indoor Air
Pollution or generate a sizeable decrease in fuel use for
the population." (italics added)
Solar Household Energy has prepared a point-by-point
rebuttal of the contested data and the study's conclusion.
Although SHE has also asked that the study be removed
from the Global Alliance website until the inaccuracies
can be corrected, the report remains there as the first
document that appears when searching for "solar
cooking".
With respected researchers like Professor Smith
publicly deriding this technology, and with the sole peerreviewed
study on solar cookers and health declaring
that a solar oven "cannot reduce indoor air pollution," it
has been difficult for the global humanitarian and
development community to accept that solar cookers are
a valuable, affordable and sustainable technology for
reducing illness, poverty and deforestation among the
world's poorest people.
There appears to be less resistance in the international
community regarding the healthbenefits of solar thermal cookers for heating and
purifying water. Professor Kenneth Bryden of Iowa State
University has learned from his studies in Africa that up
to 30% of all energy generated in remote villages is used
to heat water from ambient temperature to boiling for
cooking, washing and bathing. Although Bryden
recommends large community solar hot water heaters
rather than single-family solar cookers for this purpose,
he does agree that heating water with solar thermal
energy and storing it in thermos bottles or other insulated
containers for use at night could cut emissions and fuel
consumption in these villages by up to one third.
Preventable waterborne diseases are responsible for
80% of all illnesses and deaths in the developing world.
Both the UN and WHO have acknowledged that solar
thermal cooking technology has made an important and
sustainable contribution to reducing this cause of death
and disease. On its website, the World Health
Organization cites a 1999 study by former SCI Board
President and microbiology professor Bob Metcalf
proving that solar cookers can be used at the household
level to pasteurize water and milk. In 2010 UN Habitat
published a guidebook written by Metcalf on how to use
his portable microbiology lab to test water in the field and
pasteurize it with a solar cooker.
A December 2012 report by Solar Household Energy
has revealed the exponential spread of solar cookers in
Western China and the strict emissions-reduction
monitoring that has been required for these projects by
the Kyoto Protocol. This report has complied the first
documented evidence of at scale solar cooker projects
which have significantly reduced the need for people to
cook over biomass fires. If such objective assessments
on the health impacts of solar cooker use become
standard practice by sector members in the future, the
world will finally have (along with the studies referred to
above on solar cookers and water pasteurization)
sufficient documented evidence to convince the
international community that solar cookers must be a
major part of the solution to reducing indoor and outdoor
air pollution. Our only obstacle now is funding
- Patricia McArdle

visit here: For more news and articles from Solar Cooker Review

Solar Cooking Adventures 
Solar Cooking Blog by our friend Andrew in California, sharing his observations and experiences with various solar cookers such as the Global Sun Oven and the Solar Burner Parabolic cooker. 



Site Visitor Sharing-Noteworthy files and links
Our friend and colleague, Bart Orlando, has been working with solar cookers and designing them for years and he has some really "neat" homemade solar cookers that boggle the mind when you realize how effective and practical they are considering the materials and the designs...
Here you can visit his page full of comprehensive information, and documentation of their process to produce the Solar Umbrella Cooker: The Solar Umbrella Cooker: The SunBrella
and another Bart Orlando Project
The Parabolic Wheel of Revolution
This great writeup was submitted by Erik Burton of Kauai, Hawaii. His comprehensive efforts at making several homemade solar cookers and his documentation of the experience. comparing portable solar cookers on Kauai.
Our colleague and friend Brad Belford of Las Vegas put together a really comprehensive PDF file of a great deal of useful information, photos, commentary and analysis on every kind of solar cooker you can imagine. This is a great file to use for reference Mini Reference Guide to Solar Cooking
Super Sun Oven... Sun Oven World Record Temperature?
Here is a great submission from Chris Rapp in Salt Lake City...December 2, 2009
Hello Nathan!
I decided to modify the sun oven to see what kind of additional power I could generate. Wow! I can't believe it registered 448 degrees this morning at 11:15 am, with a UV index of only 2.
I first tried to increase the attack angle of the oven by drilling an extra hole on the bottom of the back tent pole plate, but I wasn't satisfied with the results. I noticed as the days are getting shorter the sun oven is not generating as much heat. I have only been able to cook at about 300 degrees.
When I placed the sun oven next to the SOS Sport oven I observed that the sport oven had a much steeper maximum winter angle. The only way to achieve this angle is to tip the sun oven so far forward that the tent pole will not touch the ground.
After some thought I decided to keep it simple and clamp some small pieces of wood on the front allowing the oven to rest comfortably at that steep angle. This idea worked out great and only takes about 2 minutes to set up.

I also measured and pieced together the additional reflectors in 8 pieces, 4 rectangles and 4 triangles. I covered them with mirror vinyl and attach them with very small clamps. This only takes about 3-4 minutes.

This was how the experiment went this morning with an ambient temperature of only 27 degrees. I started this experiment at 10:20am. The sun oven temperature climbed to 350 in 20 minutes, climbed to 400 in 30 minutes and finally climbed to 448 degrees in about 40 minutes. Wow! that was really fun. It may have gotten even hotter, but I decided it was time to cook some chicken breasts stuffed with broccoli. They came out absolutely awesome. This increased power reduced my cooking time by about 10 minutes. After I opened the oven and put the chicken breasts in, the oven temperature dropped down to and maintained a cooking temperature of 385 degrees.

The UV index web site I mentioned earlier, if you don't already have it, is http://www.epa.gov/sunwise/uvindex.html
I included a few pictures for you to enjoy. Let me know what you think.
Chris Rapp
| | |
| --- | --- |
| | |
| | |
| --- | --- |
| | |
| | |
| --- | --- |
| | |
November 15, 2008
Sunny St. George, Utah
I came upon a blog the other day that had a mention of Solar Cooking, and of course it piqued my interest and subsequent investigation.
The solar cooking exploits were interesting enough, but as I read further my interest became more than casual as I started to see much more than just a journalistic description of a cooking adventure.
The blog/site was a heartfelt narrative of a Swedish Girl, named Esther Garvi, and her life as a long term volunteer in her parent's non profit Sustainable Living project called the Eden Foundation in Niger Africa.
I was quite inspired by her outlook on life and her motivations and interests.
I am therefore recommending Esther's blog not only for the great solar cooking narratives but also for the great charitable aspect associated with her, and the organization's efforts.
*You can learn some great solar cooking tips from Esther as she experiments with the native foods. Eden Foundation
I also came across an article from earthfirst.com that spotlighted the actor Ed Begley Jr. in their "Who's Who in Green" list.

I had known that Ed was a solar cooking advocate and, as one can understand, that is what caught my attention.
I am somewhat skeptical when it comes to famous people and their motives and reasons for doing things, but I will have to admit I was impressed with Ed's track record, motivations and with his manner and nature in regards to promoting and educating people on his views and stance on the environment.
I found in him a model of how people should educate others and promote their views and opinions about what they believe in.
Though I may not agree with all of his political views I do agree with what he has accomplished and is doing when it comes to his exemplary "green" lifestyle.
Read all about him in the following article:
Who's Who in Green: Ed Begley, Jr. earthfirst.com
November 15, 2008
Actor Ed Begley, Jr. is well known for roles like that of Dr. Victor Erlich in St. Elsewhere, for which he won 6 Emmys, but over time, his environmentalism has begun to outshine his film and television career. Ed has always been an activist, working toward making his own life as eco-friendly as it can be and over the last decade or so, he's been sharing his passion with the world.
He may sometimes seem like an irascible, get-off-my-lawn type on his HGTV show Living with Ed, but he's certainly not a shrill holier-than-thou eco-martyr. Ed is the real deal – he lives his beliefs, and his show documents how he's living the green life in California despite his celebrity status and a wife who'd rather be taking a private jet to Bora Bora. He's not a poser, using the environmental movement to gain credibility, nor is he wagging his finger at people who do less than earth-friendly things. He simply does what he believes is right, giving advice only when asked.
Growing up in Los Angeles, Ed Begley Jr. was all too aware of the pervasive smog that hangs over the city, and it inspired him to change his life, despite the fact that an eco-friendly lifestyle was highly unusual at the time. He's a longtime vegan, has been driving an electric car for decades and uses low-tech, man-powered gadgets whenever he can.
Ed arrives at Hollywood events on his bicycle or in his electric car. He's unapologetic about his decidedly un-Hollywood 2-bedroom 1 ½-bath home, which is powered completely by solar energy. He ripped out the lawns as soon as he moved in, grows organic produce, cooks meals in a solar oven and fastidiously sorts his recyclables. He collects rainwater in barrels, takes super-short Navy-style showers and recently installed a wind turbine on his roof.
On what he thinks it will take for renewable energy to go mainstream, Ed told Mother Jones,
I think the tipping point is just a critical mass of people who finally accept it. People have it in their mind that it's too expensive, and so it is. Here is what I would like to have happen: that the people who can afford it would buy solar. Everybody who can afford it—doctors, lawyers, professionals, actors, athletes—people who have the money would put some amount of solar on their house. The way people did with personal computers. Enough people say, "Hey, I want to have a personal computer" in the '80s and suddenly they got a lot cheaper and by the '90s, you know, it just went boom. And now they are really cheap. I bought a personal computer in '87 with a hard drive, not just floppies, a 25 MB hard drive. You know how small that is. That's like nothing. It was $4,700 dollars for all the stuff that came with it. And at some point just a few years down the line, it was a fraction of that.
In addition to his reality TV show, Ed has a book called Living Like Ed: A Guide to the Eco-Friendly Life and his own range of cleaning products called 'Begley's Best', which raises money for charity. He speaks to crowds across the country about sustainability and environmental issues, hoping to get more people excited about the small ways in which they can contribute to the cause every day.
Ed Begley's Green Score: 50,987
| | |
| --- | --- |
| Ed Begley Jr. at Sundance Film Festival 2007 | |
---
March 18, 2009
Global Sun Ovens International President, Paul Munsen will be in St. George, Utah on April 4th 2009 in conjunction with St. George City and Dixie State College"s Community Education Program Class on Solar Cooking.
He will be spotlighting the Sun Ovens International initiatives to bring solar cooking to not only third world countries but also to increase its awareness and use in developed countries such as the United States.
The Sun Oven has gained an increasing presence here in the United States among outdoor enthusiasts, preparedness organizations and alternative energy seekers.
Mr. Paul Munsen will also have one of their Global Villager Sun Ovens for the public to be able to observe in action.
The Villager is the largest commercial solar oven manufactured and is designed to be used by communities and large groups to provide cooking ability for many dozens of meals at a time.
The VILLAGER SUN OVEN® is the only manufactured commercial solar oven in the world. Over 1,200 meals a day can be cooked or hundreds of loaves of bread can be baked powered by the sun. Ovens are growing in popularity and are currently used in more than 40 deforested counties in a variety of applications.
Come join us at 12:00 PM in the Vernon Worthen City Park in St. George, Utah for a very enlightening day of solar cooking and learning. 
---
March 21, 2009
 Today was the start of our Community Education Program Solar Cooking Class, the very first day of five classes over five Saturdays, here in St. George, Utah.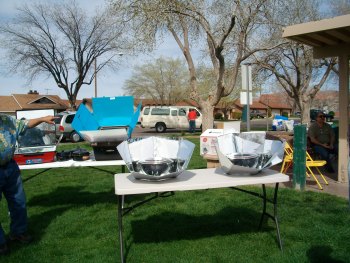 After a long and cloudy winter caused us to wonder if we would have many individuals even interested in cooking with the power of the sun, we had a larger than expected turnout and registration for the class, over 30 registered participants.
Everyone stated that they were so excited to have found such a class and they had been waiting anxiously for it to start. They also mentioned that they had friends and acquaintances that could not make it this time, but would be registering for the May and June classes.
About ten of the participants I found to have already owned solar cookers, more specifically the Global Sun Oven, and only one had even used their oven. The rest were there to learn how to use them because they were too intimidated or too afraid to "test" it without having any idea how they worked.
They figured that it was a good thing to have as part of their emergency preparedness supplies just in case they might have a need for them though they were not sure how to use them.
My family (wife and four kids) came and helped me with the class;helping with everything from set up to take down of all of the equipment, preparing the food for cooking, taking payments for registration, explaining things to the participants and helping me to keep an eye on the food and the cookers.
We had all five of our solar cookers, as well as a windshield reflector panel cooker, to make sure that we could cook all of the food with ease. We had our Tulsi oven, the SOS Sport oven, two Hot Pot cookers, our parabolic and the home made panel cooker as well as our brand new Global Sun Oven; fresh out of the box.
We decided to do a recipe that is popular with all; and that was our Taco Soup, as well as solar cooked (steamed) broccoli and cauliflower and Wheat Bread with butter.
We prepared all of the food ingredients at the park except for the dough for the wheat bread, which I prepared just before heading to the class site.
I mixed the dough at home and put it into the bread pans and then put them inside of a Coleman cooler, thinking that they would stay somewhat cool and therefore not rise (proof) as much until I was ready to cook them. When I got to the park I found my bread dough quite inflated and actually over proofed. I opened the cooler and added some ice packs to the bottom to retard the growth and set my Sport oven up to pre heat as quickly as possible in order to cook the bread.
Meanwhile we set up the rest of the equipment and proceeded to brown the ground meat with the Parabolic solar cooker while the rest of my family helped prepare the other ingredients by opening cans, cutting vegetables and such.
The day started out clear, but within a short time high thin clouds were starting to move in, which caused us some concern in regards to how we would be able to handle cooking with an overcast day.
I guess there is not much one can do though, when it clouds up, it affects your ability to solar cook where ever you may be.
Luckily the clouds held off until about the last hour of the class and most of the food was cooked and available for the participants to eat.
The high clouds caused our last loaf of wheat bread to have to remain in the solar oven longer than normal, but it still turned out fine in the end.
By the time we were ready to pack up, the clouds were thick enough that none of the cookers could achieve much in the way of heat.
All in all the event turned out very well. Everyone enjoyed the food, asked lots of questions and the participants were anxious for the second class the following Saturday.
I guess We'll have to pray for more sunshine for our next class.
You can see some of the photos of the solar cooking class on our solar cooker pictures page.
---
March 28, 2009
Today was a perfectly sunshiny day, you couldn't have asked for more ideal conditions.
We arrived at the park at our usual time to get things set up and ready for the class.
I was a bit apprehensive today because I had selected a menu of brined chicken, baked potatoes, and baked cinnamon apples and realized the day before that I may not have a large enough capacity to cook all of the items in a timely manner, even with as many solar cookers as I have. I then started hoping that some of the class participants would bring their solar cookers in order to help out with the load.
In the end only one brought her Global Sun Oven with an apple crisp dessert that she was looking forward to cooking, thus I still did not have enough capacity.
It wasn't until the class was starting that some of the participants asked if they could purchase some of the Hot Pot cookers that I sell and they would gladly employ those cookers to help cook the large amount of food. They were anxious to do so in order to "break them in" at the class so that they could have help and guidance for their first time.
The gal with the apple crisp (Terry Young) left her dessert cooking while she ran off to take care of some things before class started. The Global Sun Oven (GSO) needed only twenty minutes to preheat up to 325 F before placing the dessert in the GSO in the black enamel covered cooking pot.
In the meantime I filled the covered pots from the Tulsi oven with scrubbed potatoes and set them inside the oven to begin cooking. I was concerned because I had to fill the cooker with a larger than normal amount of potatoes, which is not good when you are solar cooking with only a limited amount of class time. I knew they would not cook fast enough in order to be eaten at the end of the class at 2:00 PM, but we needed to at least start them and hope for another cooker to show up.
I found myself in the same predicament with the chicken also, not enough cooking capacity, so I filled the SOS Sport with two full pots of brined chicken thigh and leg quarters and one of the Hot Pots with the same and hoped for the best.
The other Hot Pot we filled very full of sliced fresh apples, cinnamon and sugar, knowing that it too was over loaded.
Boy did I need another solar cooker or two.
I had always prided myself on having quite a large capacity and ability when it came to my solar cookers, but I was not prepared for so many class participants with this particular menu that I had chosen; food items that require more time than most to cook properly in a solar cooker.
As I mentioned earlier, some class participants that had wanted to purchase cookers, helped us in our little predicament by putting their brand new solar cookers to work. We proceeded to divide some of the ingredients from the overfilled cookers into the new Hot Pots, which allowed the food to really start heating up faster.
A few remaining pieces of the chicken that we had not been able to place in the other cookers in the beginning, were fried in a frying pan on top of the parabolic solar cooker allowing the smells to waft through the air, which then attracted the attention of passersby in the park as well as a couple of dogs. The onlookers were quite impressed to see frying chicken made possible by just using the power of the sun.
(Note: It is best to use a deep pan when frying on a parabolic...too much grease splatters onto the panels of the cooker, making for a big cleanup job afterward.)
When frying on a parabolic one must constantly attend to and turn the food so as to not burn it.
After my two oldest children finished with the chicken I had them pop some popcorn on the parabolic cooker, which gave us two bowls of popcorn to pass around to the class participants during the instructional period. They found this quite amazing and of course wanted to know how to get a hold of a parabolic also.
The lady (Terry) who had brought an apple crisp , took the dessert out of the GSO after about an hour and a half where it had been cooking at 350 F the whole time (Those Global Sun Ovens are great) and she shared it with the class, after which we put one of the pots of chicken from the SOS Sport into her GSO to let it finish cooking there.
The Sport was then able to reach a higher temp more quickly with only one pot of chicken. The chicken was cold and the pots overfilled, thus causing the Sport to "struggle" a bit with reaching higher temperatures.
This would not have been much of an issue if we had had four to six hours to let the chicken slow cook, but this was not the case with a two hour class.
Around the finish time for the class we checked the different cookers to see which were farthest along.
The first pot of chicken that was ready was the one in the GSO, followed by the chicken in the Hot Pots as well as the first cinnamon apples, which were slightly crisp due to such a late start, which, nevertheless were well received by all who tasted them.
The Potatoes were not quite finished due to the large amounts in the cookers, so many of the class members took them home to finish cooking them any way they wished, as well as some of the last chicken that still lacked some cook time.
This experience showed all of us that in most cases and under most circumstances, solar cooked food, especially large amounts, needs to be allowed to cook long, slow and even, just like a crockpot.
This is the ideal way to get the best results out of your solar cooked foods.
---
Here is a news link from a TV station in Salt Lake City showing the Global Sun Oven along with some other bits of information.
http://www.ksl.com/index.php?nid=148&sid=5845295
---
Visit from Paul Munsen of Sun Ovens International 
April 8, 2009
We have had a very busy and eventful day full of solar cooking, education and entertainment.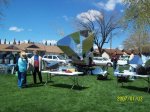 On Saturday the 4th of April we had a special visitor to our solar cooking class in the park in St. George.
Paul Munsen, President of Sun Ovens International, manufacturer of the Global Sun Oven participated in our class along with the presence of the giant Villager Global Sun Oven.
The large villager was a sight to behold and a marvel to watch in action as it easily cooked several trays of cookies all at the same time and with no effort at all.
The day turned out perfect, starting with completely blue and cloud free skies and abundant sunshine, although the temperature was a little bit cooler than normal due to a storm the previous day that came from the cold north.
We arrived at our normal time of 10:00 AM to start setting things up for the class and Paul arrived at the same time to get the Villager and the rest of the Global Sun Ovens set up and preheating.
We heated water on our parabolic and in the one of the Sun Ovens in order to have hot chocolate, cider and Pero available for the early arrivals and any others that might want to fight off the chill of the morning.
We had some other visitors for our event that traveled many miles just to be on hand for Paul Munsen's lecture and to see the largest solar oven in the world.
Jackie Harsha, came all the way from Phoenix Arizona along with friends of hers that live not too far away in Las Vegas.
Jackie is the Author of a great solar cooking recipe book called Heaven Sent Food. All of the recipes were personally tested by her and some close friends and cooked up in her own solar cookers.
I asked Jackie to bring her books to the class to show to the class and event participants so that any who were interested might purchase a copy...she sold everyone of the solar cooking recipe books she brought with her and could probably have sold even more.
We also had visitors from towns further north of St. George...Cedar City, Utah and also Provo, Utah along with some others from the Las Vegas Area.
Our menu for the class was determined to be a simple offering due to the fact that we would have more people than usual on hand.
We decided to do foods that were quick and easy and that we could offer in larger quantities to whomever should stop by.
We chose Hot Dogs, Little Smokies, Chocolate Chip and Sugar Cookies, and also had some carrot cake brought by Terry Young, who again, was "rarin" to cook one of her own recipes in her GSO.
We got the class started right on time at 12:00 PM and while I introduced Paul Munsen and shared a few thoughts of my own, my wife and children took charge of baking the cookies in the giant Villager Sun Oven as well as getting all of the Hot Dogs into the smaller Global Sun Ovens.
Paul had five GSOs as well as two more brought by class participants, so we had more than enough capacity to cook as much as we wanted quite rapidly.
The Villager maintained a constant temperature of about 350-375 F the whole time we were using it.
Some to the smaller GSOs were cooking between 350-400 F. and produced two nice carrot cakes, lots of "hot" hot dogs and little smokies and plenty of hot water.
Paul Munsen spoke for about half an hour about the Villager and where and how they use it, along with the charitable work that Sun Ovens International is doing around the world.
He spoke about the smaller, family size, Global Sun Oven and how Utah is the leading state in the nation; in fact the world, for Global Sun Oven purchases.
Over a third of the company's February sales came to Utah, thus a big part of the reason that Paul was here in Utah to promote the GSO and to show the Villager Sun Oven.
The Class thoroughly enjoyed the presentation and also being able to watch the Villager in action.
There were many passersby in the park who could not help but to stop and inquire about the solar ovens and solar cooking.
I am including some links to the locally conducted newspaper and television interviews so that you can learn even more about the event.
The day and the event turned out perfectly in every way, with even more solar cooking enthusiasts determined to implement all they had learned into their own personal solar cooking efforts.

Also you can visit our photos page for many more photos of the event at April 4th Solar Cooking Class
---
Utah, Milford
Governor John Huntsman tries some solar cooked creations.
We had a very successful solar cooking demonstration at the Milford High School Alternative Energy Fair on Monday the 20th of April
We were one of several booths/demonstrations on hand at the Third Annual Milford High School Alternative Energy Fair and Electric Car Race.
Several High Schools participated with their own student built electric vehicles in an hour long track race, the focus of the event of course, alternative energy solutions.
In all there were about four hundred people in attendance, as well as theState Governor, John Huntsman Jr.
We were able to set our display of six solar cookers and ovens up right on the event field, and offered all event participants samples from our solar cooked array of goodies.
We opted to cook simple foods in order to be able to offer a sample to so many people.
We chose hot dogs, smoked sausages, peanut butter cookies and solar parabolic popped popcorn, since these are easy to cook and sample in small portions.
Even the Governor tried some popcorn and sausages before he had to go into the school; where he was to sign some legislation concerning alternative energy initiatives for the State of Utah.
I will have to admit that the solar cooking booth was the most popular at the event...food does seem to attract attention.
---
Utah, Mt. Pleasant
Solar Cooking at the Scout Expo.

Saturday May 9th 2009
Solar Cooking was one of many Scout themes at the annual Scouting Expo,held each year in Mt. Pleasant, Utah.
This is one of many expos held by the Utah National Parks Council of the Boy Scouts of America and there was fun and adventure for all on hand.
We were invited by the Scout troop that my brother has been associated with to come and do a solar cooking demonstration as part of the overall expo.
My family and I hauled all of our solar cooking gear, which we use for our solar cooking classes, to the small community of Mt. Pleasant Utah, and we were able to shine some new light onto a subject that most people had heard only very little about.
For our demonstration we decided on some simple fare, something that would cook easily and would also be feasible to sample to large amounts of people.
We cooked up sliced hotdogs, chocolate chip cookies, solar cooked popcorn and also hard boiled eggs from our homemade $5.00 solar panel cookers
Some of my own extended family members were on hand to help us out and to also see for the first time; solar cooking techniques in action.
Needless to say, our booth was a big hit and attracted a lot of attention since people become so intrigued and fascinated by the knowledge that one can cook all kinds of foods with just the power of the sun.
We had to deal with some high thin clouds for part of the day, nevertheless the solar ovens performed well and people were able to see and experience the results of the cooking, despite the less than ideal sun intensity.
The clouds finally cleared out for the last hour and a half and then the ovens really jumped in temperature and we were able to cook even faster, as well as continue popping popcorn on the parabolic; to the delight of the kids as well as adults.
Many people inquired as to how they could also get started with solar cooking for their own personal and family needs and many scout leaders were determined to add solar cookers to their own store of troop supplies and gear for the upcoming summer camping season.
The demonstration was very well received and was carried out with precision and efficiency, which garnered for our booth the; "Proficient Award" Blue Ribbon, presented by the local council of the Boy Scouts of America. 
---
Utah, St.George
Thursday May 28th 2009
Today was to be a different kind of solar cooking demonstration than we normally put on.
Our demonstration was to be held at a rehabilitation center for the infirm and aged. The place is located here in St. George, and is known as Kolob Care and Rehabilitation. And the way I ended up at the facility doing this solar cooking demo, was due to a good friend of mine, Jackie Harsha of Phoenix Arizona.
Many within the solar cooking circles are probably familiar with Jackie and also with her excellent book of Solar Cooking Recipes.
Jackie has a good friend who is staying for a while at the rehabilitation center and she very much wanted to have us come and do a demonstration for her and the other residents.
Jackie and her friend,Janet Gordon, arranged the time and facilities in order to be able to present our solar cooking demonstration and on the day before the event Jackie Flew into Las Vegas and to the home of a friend who let her borrow her two Hot Pot cookers and her Sport Oven and then the next day she drove the two and a half hours from Mt. Chareston NV up to St. George.
I and a former member of one of my solar cooking classes, Joyce Lee, arrived early to the facility in order to set everything up and to have all of our cookers preheating so that when Jackie arrived we could start cooking all of the Mango Cheese Cakes right away, in order to refrigerate them and then start on the rest of the menu.
Our menu would consist of Cheesecake, homemade white bread, blueberry bread, corn on the cob and Pork medley served over rice.
Jackie arrived a bit later than anticipated due to traffic and distance, but we had the ovens ready and when she arrived she whipped together the cheesecakes and we promptly placed two in the Tulsi, two in one of the Sport ovens, one in the Global Sun oven and one in another of the Sports.
In the meantime we planned out the schedule for preparing and cooking the rest of the food through out the day in order to have all ready for the 4:00 PM serving time.
Throughout the day many of the residents came and watched us in action and also the solar cookers as we baked, boiled and stewed the evenings meal that; they as residents, would soon be able to sample. Most of the residents had to move with the aid of wheelchairs, walkers or some other kind of assistance, so we had to lower the solar cookers from the tables where they were located in order for the residents to see the blueberry bread, cheesecakes and the corn on the cob, cooking away in the sun.
As the day progressed the clouds again; as they had for several days, began to form on the horizon and slowly began to increase and spread. But, if this day were like the previous several days, the clouds would become a threat to our solar cooking only later in the afternoon; usually after we were able to finsh our solar cooking.
We kept our fingers crossed.
The corn on the cob cooked up rather well in the four Hot Pots we had and the blueberry bread (two of them) cooked up great in the Sun Oven and in the Sport. Jackie also mixed up enough dough for two loaves of homemade white yeast bread and allowed them to raise before we placed both round roaster pans in the Sport to let the bread cook.
About 1:30 PM we started preparing, what I call Pork Medley, that we were going to serve over white rice. The Pork Medley included small cubed pork roast, sliced apples, sliced onions, cinnamon sticks and...well I did not see the rest of the ingredients since I was busy with other cooking responsibilities, but it looked good.
We distributed the pork between all four hot pots and some inside of the GSO. We started cooking the pork about 2:00 PM, and before it had cooked even forty minutes; the clouds and the wind started to cause us some concern and within another ten minutes the sun was behind a big mass of black clouds. Everything else on the menu had been cooked except the pork and so we had to make a decision as to what we could do, whether to even offer the pork and just serve the other finished foods, or somehow find a way to finish cooking the pork.
We noticed a large barbecue grill nearby and withing a few minutes had the grill heated and cooking the pork in five black roaster pans.
The pork did get cooked, but because of the temperatures and the method of cooking, it turned out drier than it would have had we been able to allow it to slow cook in the Solar Hot Pots.
Because the sun no longer shown, we decided to forego the rice and just serve the meat mixture all by itself.
Finally at 4:00 PM we had everything finished and the residents were already heading to the eating area where we had already commenced to set up tables with plates and eating utensils.
We sliced up all of the breads and cheesecakes, as well as placed the corn and pork on each table where some of the residents were already helping themselves to the cakes and breads.
The staff as well as the residents found the food very delicious and commented all around at how amazing it was that foods such as these could turn out so well by just using the power of the sun.
Everyone had as much as they could eat and still there was enough left to feed many other people. Despite the clouds and the small outside courtyard we were able to carry out a successful solar cooking demonstration.
---
Utah, St.George
Saturday May 30th 2009
First Solar Cooking class of the new course through the Community Education Program sponsored in part by Dixie State College of Southern Utah and the City of St. George.
The weather started out perfectly clear today and I arrived at the site in Vernon Worthen Park early today because I wanted to have everything ready and cooking early due to a possibility of cloudy weather in the afternoon as has been the case for the last couple of week.
We decided upon cooking whole marinated chickens, mashed potatoes with sour cream, chocolate chip cookies and baked cinnamon apples.The first thing we did upon arrival at the park was to set all of the solar cookers to pre-heat.
After about fifteen minutes of preheating, we then cut open the bags of chicken and placed two inside of a medium sized roaster in the Global Sun Oven, which is usually the hotter oven, and one in a round roaster for the Sport Oven and the fourth chicken we placed inside of one of the Hot Pots.
We set about peeling two large pans of potatoes and cut them into one inch cubes and left them in water in the meantime.
I put my son Joshua in charge of baking the chocolate chip cookies in theTulsi Oven and my wife and daughter began to peel and cut up a small bag of apples for the baked cinnamon apples that are always so popular with the class.
Just before twelve some of the class registrants began to arrive, and as is usual, they start with all kinds of questions about solar cooking, recipes, cookers and a myriad of other related questions.
This class has a total of twenty four participants, just under the total of the first class that had thirty members.
We spent about an hour in class discussion and then allowed everyone to mingle around the solar cookers; observing the food and the solar cookers while asking and answering many more questions about how to solar cook.
While the class was in session my oldest son and my wife took care of boiling the big pots of potatoes on the parabolic solar cooker. It took about twenty five minutes to do each pan of potatoes from start to finish...which amazed all of the students.
It never ceases to amaze people at how efficient and efective solar cooking can be by using such a simple object like a solar oven or cooker. With a half hour remaining of the class, the clouds finally started to cover the sun and the wind picked up, but we actually had a finished cooking all of the food and were ready to eat.
The Chicken was so moist and tender the meat fell off the bones, the potatoes were flavorful with only sour cream and salt (forgot the milk) and the apples were very tender.
Oh, and we also hard boiled two dozen eggs inside of our canning jar and solar reflector panel cooker, which we then offered to any who would like to try their first solar hard boiled egg.
As we were eating the wind picked up even more so we had to cut a little short the remainder of the class and start to pack up all of our gear, but by then we had pretty much finished all of the important things.
The participants thoroughly enjoyed the first day of class as well as the food. It was a very successful solar cooking class.
---
Saturday June 6th, 2009
St. George, Utah

The weather is still very volatile and the temperatures are a bit lower than normal for this time of the year, and each day usually starts out mostly clear, but ends up cloudy and windy by late afternoon. This was the case today for our solar cooking class at the park, but we seem to always get just enough sunshine to be able to completely cook the meals we serve to the students.
Our menu for today was designed to be easily cooked in a shorter period of time just in case the weather decided to spring a surprise on us. We decided to make our No-meat chili along with cornbread, a white cake and a chocolate cake. The Chili would be served with our homemade fresh salsa, sour cream and tortilla chips, or with hot dogs for those who would like to make a chili-dog.
We arrived at our usual time in the park, just after 9:00 AM in order to start things early and to take advantage of the sun, just in case....
We set the Hot Pots out to preheat and that is when one of our students arrived, Sheri Alldredge, to offer her recently purchased solar cookers to help out with the cooking.
This was a good thing because now we could divide the chili into three Hot Pots, which would allow for quicker cooking.
The no-meat chili was prepared beforehand at home so that we would not have to spend so much time at the class site getting it prepared.
We used canned beans and tomatoes to help cut down on prep time. The chili tastes the same as if dry, then cooked, beans were used.
We poured the chili into the Hot Pots and then added our little booster reflector panels to the Hot Pot panel in order to add a bit more "oomph" to the cooking process; more of the sun's rays reflected to the pot. We did so in order to cook the chili a bit faster, and it worked great.
My two oldest children, Hyrum and Angela set about mixing the chocolate and white cake mixes while the Sun Oven and the Sport were preheating and Sheri Alldredge took care of mixing up the corn bread which would be cooked in our already preheating Tulsi Solar Oven.
The four packages of hot dogs were placed into two roaster pans and placed into the Sport Solar Oven and then realized we needed one more oven to cook the white cake in.
Sheri offered to use her brand new Sport, in order to break it in, or christen it for its first solar cooking attempt.
Normally we would have waited a little longer before cooking the baked goods since they do not take as long and so that the class participants could also be involved, but we dared not risk the possibility of losing our sunshine later on.
In fact, even though we had the various items cooking early, the clouds did start to gather, or rather, high thin clouds moved in and caused some of the cookers to start dropping their temperatures due to the fact that they had just had food put into them and were in the process of regaining their prior preheated temps.
While the high thin clouds were still causing us fits, the class members arrived and we started the class, hoping and praying for more sun and less clouds, or we would be eating very warm cake batter.
As the class progressed the sun began to break through more and more and the cookers began to rapidly rise to more efficient cooking temperatures.
The Chocolate cake was the first to finish cooking in the Sun Ovens, followed by the corn bread and lastly the white cake mix, since it was started so much later than the other baked goods.
Despite the slow, low temp. start, the sun came back and did a good job of producing very good results with the class meal.
By the time the class was winding up around 2:00 PM the chili was bubbling and boiling and we were able to serve all of the food hot and fully cooked.
This experience was good for the class participants to be able to see first hand some of the challenges that can surface when using the solar method for cooking ones food, and how one can deal with it appropriately.
---
June 25th-July 1st, 2009
St. George, Utah
State of Utah Solar Cooking Challenge, sponsored by Sun Ovens International
From June 25 to July 1st 2009
Solar Cooks in Utah are being given the challenge to solar cook as many meals as often as they can in a one week period.
There will be a drawing for prizes at the end of the contest, with two grand prizes in the form of a Global Sun Oven, as well as many other second and third place prizes.
For More information and contest rules please visithttp://utahsunovens.blogspot.com/
---
Saturday June 27th 2009

Today was our very last day of the latest solar cooking class through theDixie State College and City of St. George, Community Education Program. And it was very well attended; finishing up on a very bright and sunny note.
This class would also be tied in with the Utah Solar Cooking Challenge that was being put on by Sun Ovens International, manufacturers of the Global Sun Oven.
We had several extra visitors for today's class due to the invite from Sun Ovens International to; "come and participate in the solar cooking class."
Today's menu was to include baked beans, sopaipilla (Chilean Fry Bread) blueberry quick bread, smoked sausages, baked cinnamon apples and whatever dishes and recipes the students were willing to bring…and several class participants brought some very delicious desserts.
We prepared the baked beans and the sopaipilla dough mix before going to the park and then prepared the apples and sausages after arriving at the park.
We quickly set up all of the solar cookers when we arrived at 10:00 AM and soon after Sheri Alldredge, one of the students arrived with her Sport Oven and Hot Pot along with a dessert mix she wanted to bake. She called it Carmel Nut Pudding dessert (with raisins)
Another student by the name of Jim Sanders brought an apple crisp already prepared in his Hot Pot Solar Panel Cooker and set it out to cook.
Soon after, another student, Helena Chamberlain arrived with a recipe she called simply; Pumpkin Dessert. And just before the class started one more of the students arrived with the ingredients for a quick and easy quiche.
Because we had so many extra desserts I decided not to make the Blueberry Quick Bread that we had planned.
First of all we did not want to overdo it on the sweets and we just didn't have any more solar cookers available to be able to do the quick bread also.
We had the baked beans cooking in two of the Hot Pots and the smoked sausages we had distributed between the Sport and the Sun Oven. A fourth pan of smoked sausages was started in one of the small homemade panel cookers using an oven bag, and as soon as the other solar ovens were finished with the food they initially started with, the sausages were then transferred into the available oven.
The apples had to wait a bit until another Hot Pot showed up, and even then we were only able to put about two thirds of them in the Hot Pot in order to avoid overfilling the cooker. We placed the remaining apples in a roaster pan inside an oven bag and use a small homemade panel cooker to also commence the cooking process until another one of the Sport Ovens was available.
The first dessert to finish was Sheri Alldredge's Carmel Nut Pudding dessert and boy was it good. Everyone felt it turned out excellent.
The Pumpkin dessert was cooked by placing two loaf pans in a Sun Oven and one loaf pan in the Tulsi. These took about an hour and a half at about 300 F, maybe slightly longer, due to the fact that they were very high in moisture content. But they cooked up well and everyone very much enjoyed the pumpkin desserts as well.
I really liked this dessert and I am not a big fan of pumpkin pie either.
The ham and Swiss Cheese quiche took about an hour to cook and was quickly devoured… very delicious and very simple to make.
The Apple crisp took the longest since it was so large and also it was cooking in the Hot Pot, but the Hot Pot did a good job and it too was a success.
We started off our class by cooking first the sopaipilla in a small amount of oil heated on the parabolic.We were able to cook four at a time, requiring about two to three minutes to brown up each batch of Chilean Fry Bread.
The students were very impressed with how easily and effectively the parabolic works just like a standard stove top.
The class was conducted very informally and the meal took place in stages, or rather, as each food finished cooking everyone ate them as they became available, the baked beans and apples being the last to achieve "cooked and edible" status.
Baked beans and baked cinnamon apples just taste better the longer you can let them simmer and cook.
The class was very successful, weather wise and results wise, and everyone commented on how fun it had been, especially this last one.
All admitted that they had eaten a bit more dessert than they had imagined doing so, but it was not often that they got to sample so many different solar cooked confections.

---
Friday-Saturday, July 17-18 2009 

This weekend we really managed to do a lot of solar cooking.
We had two different solar cooking demonstrations with two separate church groups where we ended up feeding almost a hundred people some very delicious solar cooked delicacies.
The first group we cooked for was done so in conjunction with dutch oven and other methods of cooking, based on the idea of showing how to use a variety of methods for preparing ones food in the event of emergencies or other such special situations.
Even though other means of cooking were used, we ended up using about fifteen solar cookers to cook up our most requested, always popular menu of Refried Beans Deluxe, Grilled/sauteed onions, baked cinnamon apples, marinated whole chicken and chocolate chip cookies, along with five loaves of wheat bread that were solar cooked earlier in the day.
We always have requests for this particular menu because it is easy to do large quantities and is very fulfilling (filling), especially the refried beans with fresh salsa, sour cream and tortilla chips. And, the enhanced solar cooked flavors always leave a great impression on those who try it.
Our church demonstration the following day (18th of July)was based pretty much on the same menu, with the exception of having added fresh broccoli and cauliflower Florettes to the menu.
Each day the sun cooperated marvelously, and in fact so well that we were finished cooking about an hour and a half before we were actually ready to eat, so we just turned the solar cookers off-angle from the sun so that they would not cook at such high temperatures, allowing them to simmer until we were ready to eat.
The second day we cooked our ever popular apple brined chicken, which always turns out so tender and flavorful, and always receives so many compliments.
The whole demonstration was very impressive to those who were seeing such for the first time, and I thought it was quite impressive to see so many solar cookers out in the church parking lot taking advantage of so much energy from the sun, without using on penny worth of human generated electricity.
---
August 19th, 2009

Announcing the arrival of the latest addition to our solar cooker family
Cantinawest's "Solar Burner"
This is the only commercially available Parabolic Solar Cooker of it's kind available for sale here in the United States.
The effectiveness of this solar cooker is quite impressive and at the same time it is a real bargain for the cost conscious consumer. All this in a quality product that will bring many years of use to any "sun loving" solar cooking enthusiast.
To find out more about the "Solar Burner" please visit our site pages at Cantinawest's "Solar Burner"
Share with all of us your Solar Cooking Experiences, Events and Photos
We would like to know all about your Solar Cooking Experiences; successes and failures as well as the cookers you use, whether homemade or manufactured.

Share as much detail as you would like...even submit photos as well.
What Other Visitors Have Said
Click below to see contributions from other visitors to this page...

Solar Cooking During The Monsoon Season In The Desert

Solar cooking this time of year (the monsoon season in the desert southwest has started a little earlier than usual) can be challenging and rewarding all …
Never miss an opportunity to share solar cooking

I was talking to a lady today who had just recently acquired a Global Sun Oven and a Hot Pot panel reflector cooker. She mentioned that she wouldn't …
Scout Camp Bakers Reservoir, UT May 31, 2012

The day was hot and sunny as we (Nathan and Patricia Parry and I) headed up to scout camp last Thursday May 31 to cook dinner for approx. 50 scouts and …
My sleeve is smoking! I found the focal point!

11/9/11 This past week or so was snowy and cold. I probably could've done some solar cooking but I wasn't very eager to get out in the cold. I did …
Solar Parabolic-Trough Hybrid

I've been working on a parabolic idea, after I purchased a parabolic burner (and saw how great it was), and watched this you-tube video, on building …
Super Week of Solar Cooking Not rated yet
We (I and my assistant, Joyce and my wife) have been very, very busy this week cooking up a solar storm. We have had four solar cooking demonstrations …
Solar Cooking Super Saturday Not rated yet
Great, Sunny day this Saturday, June 01, 2013 for Solar Cooking… We have an ambitious menu and schedule for cooking today. We have seven solar cookers …
Earth Day Solar Cooking In Santee California Not rated yet
What a great day it was! Starting off cold and foggy, but at exactly 8:30 am the sun burned through and another great solar cooking day had begun: Breakfast …
Earth Day 2013 Near Zion Nat'l Park Not rated yet
Earth Day is celebrated many ways across the country, but here in my area of Southern UT we had a grand Celebration at the Gateway to Zion which is a beautiful …
Year Round Solar Cooking Not rated yet
I belong to the yahoo Solar Cooking online group and was recently very dismayed that some of whom I thought were Veteran Solar Cooks, were discussing how …
Solar Cooking Holiday Not rated yet
Solar cooking in the winter months even in Southern Utah, requires you to be on your toes and prepared and ready for those few hours or sometimes minutes …
Solar Substitute Cooking for a cloudy day Not rated yet
Living in a high arid desert in the SW corner of Utah, I have plenty of perfect and almost perfect opportunities to Solar Cook whenever I want too. …
Stormy Weather Ahead! Not rated yet
On Monday night I checked the forecast for the week and saw that the next few days would be very Fall like and unsettled with thick clouds and even occasional …
After the Death Valley Dinner Not rated yet
Just a quick recap of my experiences at Death Valley and since. The Extreme Planet Crew are off on other adventures and I am back to my common ordinary …
Death Valley Solar Dinner Not rated yet
This month I had the opportunity to travel to Death Valley National Park in CA to help a British film crew do some solar cooking. They are filming a children's …
Balcony Solar Cooking Not rated yet
I live in a condo. Consequently solar cooking was a bit of challenge for me. I had a balcony, but it had an overhang that shadowed the area most of the …
A Modern Comparison To The Grasshopper and The Ants! Not rated yet
Last week I actually ran into a person who was so completely not interested in Solar cooking from any angle that it absolutely blew me away. Not used to …
Meet Dylan, 13 year old Solar Chef Not rated yet
What interests would you expect a 13 year old young man to have besides La Crosse, Wrestling, Football, Baseball, Basketball, Science, Scouts, and Video …
Here Comes The Sun Na Na Na Na. . . . Not rated yet
That's right! Rockin' with the Beatles in my head this morning when I walked out the door to go to work and realized it was gonna be the 1st really good …
Solar Cooking at the Farm Not rated yet
A week ago,I traveled to a small farm to do a Solar cooking demo for the farmers family and some of their friends. Luckily we had a few hours break in …
A Tale Of St. George and the Monsoon Dragon Not rated yet
Once upon a time, Saturday July 21, 2012, The infamous Monsoon Dragon had settled in on the usually sunny little city of St. George, UT with a stranglehold! …
A Hot Adventure in a Cool Park Not rated yet
The last time my husband and I both had a day off on the same day, we decided to have a little adventure and get out of the heat! The weather forecast …
Solar Cookers: A Good Idea For Fire Restricted Areas Not rated yet
I read a news account yesterday of 4 men who started a camp fire in a fire restricted area and the fire got away from them and burned out of control. …
Solar Cook, Freeze, and be Merry Not rated yet
Yesterday I made my own Cream Cheese in the Hot Pot. It's easy, and much better tasting than the commercially made ones. This morning I enjoyed my Cream …
Solar Cooking Demo in Cedar City, UT Not rated yet
I had a last minute invite to do a demo in Cedar City, UT on June 21st 2012, Longest day of the year! I went willingly because I love to share Solar Cooking …
Solar Cooking in Las Vegas, Nevada Not rated yet
I traveled to Las Vegas this week intending to stay only 1 full day and 2 nights to play with 3 of my grandsons who live here. I had to travel down here …
Hoping for Brownie Points! Not rated yet
Another sunny Saturday and Hubby's day off seemed like a perfect excuse to gather some of the kids for a Solar Picnic. One of my daughters has a GSO and …
"Eating Out" has new meaning Not rated yet
May 29, 2012 My husband surprised me last night with a picnic at the lake for dinner.He's not one to surprise me very often so I was excited to do something …
You Left Your Oven On! Not rated yet
May 27, 2012 Since I live off the grid but work and spend a lot of time in town, I carry at least 2 of my cookers with me in my truck everywhere I …
First solar cooking after winter Not rated yet
Today we got our parabolic solar burner out of winter storage, for a spring morning solar cooking session. Our boys ages 10 & 12 made breakfast porridge …
Sunshine On My Solar Cooker Makes Me Happy Not rated yet
In 1992 I saw my very 1st. solar cooker demonstration at solar energy fair. It was a solid state parabolic disk that focused the sun onto a hot plate. …
Play dough in the sun Not rated yet
11/10/11 Today our 12 year old son made play dough (recipe below) on the Solar Burner. We learned that we should not use a wooden spoon (or at least …
Trials & errors of a newbie to solar cooking Not rated yet
10/24/11 Trials and errors: I have been looking for ways to save money on our propane bill, and I decided to experiment with different cooking methods …
A Hotpot Lover For All Times! Not rated yet
After a challenging bout of circumstances beyond my control, including weather,illness,and lack of good internet service, I am back to business ! During …
Solar Cooking in Las Vegas Not rated yet
I got to go to Las Vegas last week to watch my 2 Grandsons play football on their respective teams and of course my solar cookers made the trip with …
A Christmas Gift Idea Not rated yet
I figured out some great treats to give as Christmas presents made in the Hot Pot Panel Cooker. First, Melt a package of chocolate chips, add some cranberries …
Here Comes The Sun! Not rated yet
Its been almost a week since the many days of storms and I eagerly wait for the sun to come up every day lately with the Beatles song in my head "Here …
Solar cooked Dinner in a Pumpkin Failure! Not rated yet
Don't try this at home folks! A whole pumpkin stuffed with a casserole is a bit too much to ask for the limited times you have to cook this time of year! …
Solar Clothes Warmer! Not rated yet
This morning was awfully cold! I heard we had our first hard freeze of the winter in some areas. I had to work 4 hours this morning in the Meat Dept. …
A Sunny tasting Salad On A Gray Day! Not rated yet
Today we are eating the very yummy sweet potato salad that I started cooking 2 days ago. Old man Winter has been teasing my Southern Ut. sunshine this …
A productive solar cooking day Not rated yet
Today I wasted no time setting up my hot pot and my sport oven for a good productive day of solar cooking. I was needing to bake some goodies and snacks …
A Fun Fall Solar Cooking Saturday Not rated yet
I woke up to an almost completely clouded over mid Oct. Saturday morning with a prayer. Please let the sun break through and burn off these clouds in …
My electricity just went out and I'm hungry! Not rated yet
Never fear, solar cookers are here! We just started cooking with a solar oven I built from scrap parts this past summer. It works well, but sometimes …
We invite all who would like to contribute to this page to do so. Submit to us your own experiences, events, happenings and gatherings that have anything to do with Solar Cooking and we will post it here for all to share, enjoy and profit thereby.
*Share your Solar Cooking Experiences with us on the form at the bottom of page.
Return from Solar Cookers Archive and Blog back to home page 
Solar Cookers Archive/Cooking Log